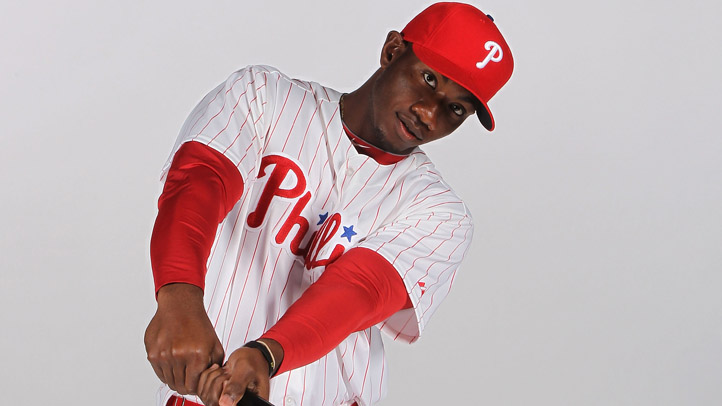 It took only two innings for Domonic Brown to play a big part in Philadelphia's latest victory.
The highly touted rookie grounded a tiebreaking single under the glove of first baseman Daniel Murphy in the ninth inning, and the Phillies scored three runs off star closer Francisco Rodriguez to beat the sinking Mets 6-4 on Friday night.
Brown entered as a pinch-hitter in the eighth and singled to start the tying rally. He stole a base and scored twice, helping the NL East leaders get off to a good start on a nine-game trip.
"Whenever they put me in, I know what to expect now. That's what was so good about having me up last year," Brown said. "I'm just trying to be prepared for every situation."
Jimmy Rollins drove in three runs for the Phils and Roy Oswalt had an RBI single to go with six effective innings on the mound. With runners at the corners, Ryan Madson got Murphy to ground into a game-ending double play for his 10th save in 10 tries.
"Get three late like that, that's huge. It gives me or whoever's coming in kind of a breather. Some wiggle room, you know?" Madson said. "You've got a couple runs to work with, so just get outs. I was trying to get a double play the whole inning, as soon as Reyes got on."
Philadelphia had dropped its last four road games since a May 13 victory at Atlanta.
"The lineup's starting to come together and we're getting healthier. So you feel better about yourself and it shows up on the field," Rollins said.
Justin Turner had a career-high four hits for the streaky Mets, who have dropped five of six after winning 10 of 14. Still missing injured boppers David Wright and Ike Davis, they tried to mount a rally in the ninth but fell short.
Jose Reyes scored on an error by center fielder Michael Martinez, Philadelphia's third of the game, to make it 6-4. Jason Bay's single put runners at the corners, but Murphy couldn't come through.
"He gave me a sinker, I came off of it, double play. It wasn't a good at-bat," said Murphy, who sat in front of his locker with his head down for a while after the game.
Antonio Bastardo (3-0) worked a hitless eighth for the win.
Mets starter Chris Capuano struck out his first four batters and fanned eight in six strong innings before Turner's RBI double gave New York a 3-2 lead in the seventh. Jason Isringhausen, however, couldn't hold it -- the first time he has coughed up a lead this season. Rodriguez was even worse.
"The only thing we found out today is the guys at the end are human beings. They have pitched so well," Mets manager Terry Collins said. "I was a little disappointed to hear the reaction. Frankie's only saved 15 in a row and pitched as well as anybody in either league. It was one of those nights."
Copyright AP - Associated Press