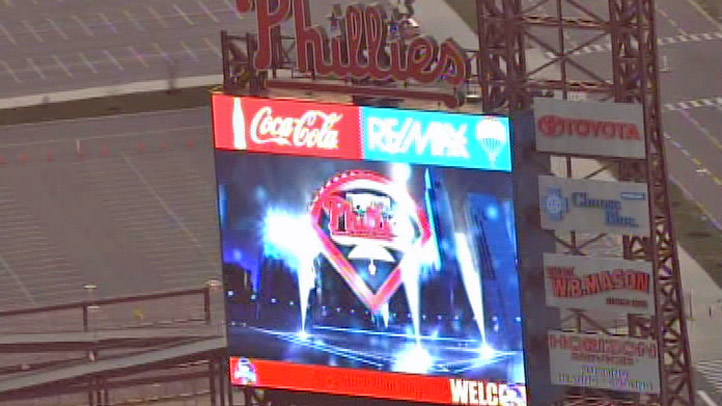 In a pretty-darn-awesome moment of what-it's-all-aboutness (is that a real word?) the Phillies made a quick fly by before they landed in Philadelphia to get the season going.
As the sun set Monday not only on Phillies spring training but on the City of Brotherly Love, the Phillies' charter flight circled over Citizens Bank Park before landing at Philly International Airport.
The charter pilot reportedly asked if the Phightins flight could do a wrap around the ballpark so that the players could get a good look at the new hi-def scoreboard. (Audio of the exchange between to pilot and air traffic control was posted on Crossing Broad.)
"I noticed that big scoreboard out there -- it looks nice," Manuel said after the team landed.
I can just picture Charlie or GM Ruben Amaro, Jr. standing up on the flight and telling the guys, "We must defend this house," as the plane circled over CBP. But then again maybe the captain was a Mets fan who just wanted to make the guys sweat it out a few more minutes before coming home.
No matter what, the Phillies at least left Florida as winners. Earlier in the day the Phillies led by Ben Francisco put seven runs on the board to wrap up Grapefruit League play with a 7-6 win over the Astros in Clearwater.
So how does it feel to be home?
"It feels good," new/old ace Cliff Lee said as the team arrived back at CBP after landing at PHL.
"We've been at spring the last six weeks and we're excited to get this thing going," said Lee.
The Phils have two warm-up games against the Pirates before finally starting the season Friday against Houston.