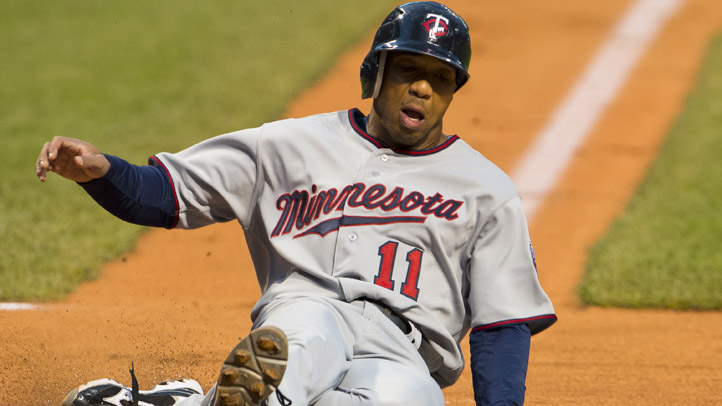 The Philadelphia Phillies made their first big splash of the off-season on Thursday, when they traded pitchers Vance Worley and Trevor May to the Minnesota Twins in exchange for outfielder Ben Revere. The trade, which was first reported by MLB.com's Todd Zolecki, partially solves the outfield quandary that the team had when the off-season began.
Let's talk about the newest Phillie. Revere, 24, is a left-handed hitting speed merchant who covers a lot of ground in the outfield, can run the bases well, and possesses a bat that should improve over the next few years. In three seasons with the Twins, he has a .278/.319/.323 line with 74 stolen bases, 22 doubles, 11 triples, and no homers. He's not going to add any pop to the lineup, but he brings speed, and more importantly, youth.
It's also worth noting that he won't be eligible to be a free agent until 2018, at the earliest. That means that the Phillies have a long-term solution in center field that will not only give them some much needed youth, but at a fraction of the cost of the likes of B.J. Upton, Michael Bourn and Josh Hamilton. With his speed and offensive potential (career .383 OBP in the minor leagues), Revere can be an ideal leadoff hitter. Although he does not possess any power, his stellar defense, plus on-base potential will be a great fit for the Phillies.
On the other side of the the trade, the Twins did fairly well for themselves. They received Vance Worley, the 25-year-old right-handed starting pitcher, and Trevor May, a right-handed pitching prospect who has long been considered the best pitcher in the Phillies organization.
Worley, who burst onto the scene in 2011 with a 3.01 ERA in 131 innings, missed a great deal of time in 2012 due to an elbow injury and did not have ample opportunity to follow up his stellar rookie season. Nevertheless, he should provide Minnesota with some quality innings.

May, who had a 4.87 ERA in 149 innings at AA Reading in 2012, is an unknown quantity with a great deal of potential. At 22, he has a career 3.92 ERA in 525 minor league innings, with 11.1 K/9 and 4.7 BB/9. He certainly does have a high ceiling, but his recent control issues have raised some doubts about how well he can perform at the Major League level.
Ultimately, I think that Minnesota got the better end of the trade. They received a young starting pitcher with Major League success, plus a pitching prospect who might be ready for the big leagues within two years. Although I would have liked to have seen the Phillies receive more for what they gave up, it wasn't an outright steal for the Twins.
With this trade, the Phillies solved their center field problem without having to dole out massive dollars for a free agent. With extra cash in hand, they can afford to splurge on a corner outfielder, third baseman and/or reliever.