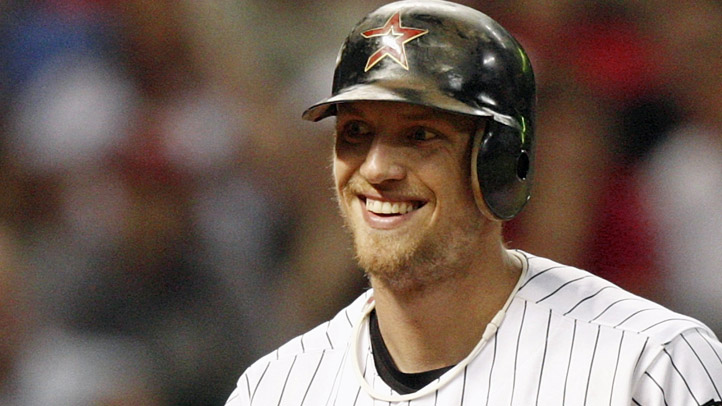 The Phillies and Eagles battle for the back page of the Daily News hit a whole new level Friday.
Just hours after the Eagles swooped in to sign highly-coveted cornerback Nnamdi Asomugha, the Phillies landed highly-sought-after outfielder Hunter Pence.
Once again Phillies general manager Ruben Amaro, Jr. and former Phillies GM/current Astros GM Ed Wade danced at the deadline.
After weeks of speculation as names from Vance Worley to Jonathan Singleton to Jarred Cosart to Domonic Brown got kicked around in rumors, the Phillies finally landed the right-handed bat they so badly desired and didn't give up Brown or Worley to do it.
The Astros sent Pence, a two-time All-Star, and cash to the Phils for top pitching prospect Jarred Cosart and first baseman Jonathan Singleton, the top hitting prospect, double-A pitcher Josh Zeid and a player to be named, Amaro told reporters.
By Houston sending cash along with Pence, the Phils should be able to stay under the Luxury Tax threshold, Amaro said.
Pence was taken out of the Astros lineup as they played in Milwaukee while Singleton was removed from the single-A Clearwater Threshers game at Palm Beach. Pence hugged Astros' teammates as he left the game.
On the season Pence, 28, is batting .308 with 11 homers, 26 doubles, 62 RBIs, 49 runs and seven steals. He will likely bat fifth for Charlie Manuel's team.
Pence is expected to be in Philly for Saturday's game, Amaro said.
News of the deal spread throughout CBP during the Phillies' 10-3 win over the Pirates.
Interesting fun fact: The Phillies traded for Cliff Lee (2009) and Roy Oswalt (2010) also on July 29.
As for what the Phillies gave up for Pence. Singleton, 19, batted .282 with nine home runs and 47 RBI for Clearwater. Cosart, 21, went 9-8 with a 3.92 ERA in 20 games (19 starts) for Clearwater. And Zeid, 25, was 2-3 with two saves and a 5.65 ERA in 21 games (11 starts) for double-A Reading.