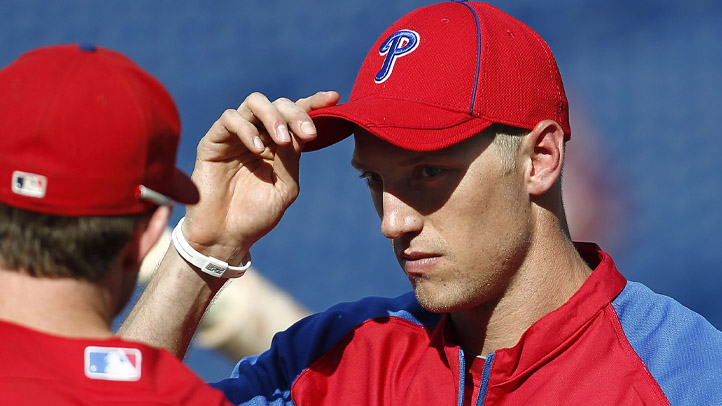 The Phillies made a big splash by locking down right-handed slugger Hunter Pence before the trade deadline and ever since the team has been unstoppable.
Pence arrived in town Saturday in the five games since the Phillies are 5-0.
With Pence batting fifth behind Ryan Howard, the Phils have averaged six runs and more than 11 hits a game. Yes, it's only a small window of time against teams spiraling out of the pennant race (Pirates, Rockies) but you can't deny Pence's impact.
Maybe Howard, who is 9 for 22 with four homers, four doubles and nine RBIs with Pence batting behind him, sums up one of the biggest things Pence brings to the middle of the Phils' batting order.
"I'm slowing things down and getting good balls to hit," Howard said.
The Big Piece says he is also seeing more fastballs with Pence behind him.
But Pence is doing more than protecting in Philly. The right fielder is also doing his share of hitting. He has hit in every game as a Phillie, going 6 for 21 with two doubles, three runs scored and three RBIs.
The real test, though, to see if Pence is the player to push the Phils past the rest of the National League will come this weekend when the Phils face the NL Champion Giants for four games in San Francisco.
If the Phillies leave the Bay Area still undefeated with Pence then maybe, just maybe, the goofy-swinging slugger is exactly what the Phillies needed even if his .818 career OPS doesn't knock the socks (get it?) off fans.