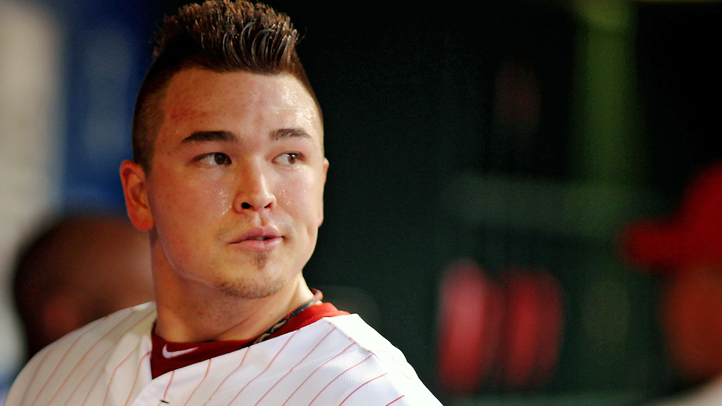 Every day this month, we here at Philthy Stuff will be counting down the New Year's resolutions of each member on the Phillies, and what they can do to guide this team back to October. Next up, Vance Worley.
At the start of the 2011 season, Worley wasn't even an afterthought. The 24-year-old, who made his MLB debut a in late 2010, wasn't really on anyone's radar, at the time, was just another arm in the minor leagues who could provide some depth to the starting rotation.
Flash forward one year later, and Worley all but has his place in the 2012 rotation locked up, thanks to a stunning rookie season that saw the right-hander pitch his way to an 11-3 record, with a 3.01 ERA and 119 strikeouts in 131.2 innings.
With the back of the rotation in a state of flux thanks to Roy Oswalt looking unlikely to return and the injury concerns surrounding Joe Blanton, it's on Worley to provide some much needed quality innings after Roy Halladay, Cliff Lee and Cole Hamels take their turn in the rotation. And really, he only has to do one thing:
Avoid The Sophomore Slump: To a young pitcher heading into his second full season in the Major Leagues, there is no greater enemy than the scouting report. That piece of paper, which is put together by the advanced scouts of opposing teams, reveals every tell and tendency of the men on the mound. And unless they can alter their game and figure out new ways to approach the hitters, it's open season in the batter's box.
For that reason, 2012 will be vastly more important to the Vanimal's growth than 2011 ever was. As a relative non-factor heading into the season, it wasn't until injuries to both Oswalt and Blanton that Worley got the nod to take the hill every five days. And considering that opposing teams weren't as prepared for him as they were, say, Cliff Lee, he was able to use this to his advantage, despite having a far less dominant repertoire.
However, one cannot simply pin his 2011 success on the element of surprise, because the statistics -- especially the advanced ones -- were very friendly to him. He struck out enough hitters (8.1 per nine), his BABIP (batting average on balls in play) of .290 wasn't indicative of any "luck" and isn't overtly unsustainable, and his ground-ball rate of 39.3 percent is solid, if not spectacular.
Of course, all the predictive stats in the world can't account for the utter randomness of baseball, which can spit in the eye of what should happen because of the sheer chaos of it all. It's why the worst team can sweep the best team in a three-game series, or why a slap-hitting shortstop can knock in the game winning run off of the fireball-throwing closer.
Things happen.
Is Worley likely to repeat his performance from 2011? Not likely. Could it happen? Absolutely. Thanks to good control, a deceptive pitching motion and a fastball that is a nightmare on left-handed hitters, Worley figures to have a fine 2012 season. And given that he is all of 24 years old, he still has plenty of time to grow in his body, and in his head.