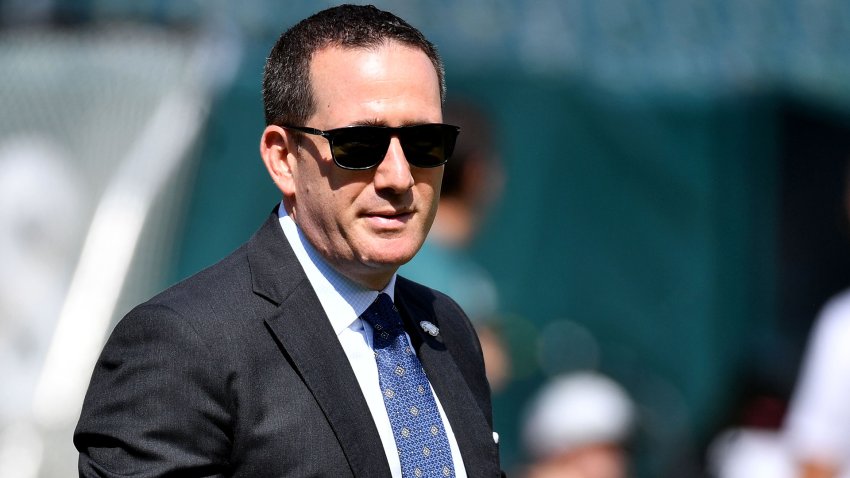 The Eagles roster dilemma facing Howie Roseman originally appeared on NBC Sports Philadelphia
The Eagles have a problem.
An edge rusher problem.
And Howie Roseman is in the position where he may have to cut someone he used a 4th-round pick on last year.
Oh yeah ... and he might have to cut someone else he used a 4th-round pick on last year.
Here's why:
The Eagles currently have eight defensive ends on the roster. They might keep six but probably five.
And a couple of the ones they should keep are the ones they spent the least on.
So does Roseman keep the guys who deserve it? Or the guys he allocated the most resources to?
It's a tough call.
Here's what we know for sure:
Brandon Graham, Derek Barnett and Josh Sweat are roster locks. Barnett is hurt and has missed all of training camp, and we have no idea when he'll be back. If he's going to miss at least three weeks, the Eagles can put him on Injured Reserve and bring him back for Week 4. But even if they do that, they have to keep him on the initial 53-man roster.
Vinny Curry is about as close to a lock as possible. The Eagles brought him back three weeks ago after his contract had expired and gave him $1.3 million guaranteed, so he's not going anywhere either.
That leaves four guys.
Two — and maybe three — will get cut.
✅ JOE OSTMAN: Former undrafted free agent out of Central Michigan is in his second year out of Central Michigan. He's a high-energy under-sized pass rusher at 6-3, 255 pounds. He had a tremendous training camp last year before suffering a season-ending knee injury. Came back healthy and has been effective this camp too.
✅ CASEY TOOHILL: Rookie 7th-round pick out of Stanford has been surprisingly effective as an edge rusher in camp. Can you sneak him on the practice squad? Maybe. Do you want to risk that? Maybe not.
✅ GENARD AVERY: Was the Browns' 5th-round pick in 2018 and had 4 1/2 sacks as a rookie but barely played early last year, and the Eagles shipped a 4th-round pick in 2021 to Cleveland at the trade deadline. Avery played just 33 defensive snaps for the Eagles and didn't flash this summer. He hasn't practiced since a week ago Wednesday.
✅ SHAREEF MILLER: Philly native was the Eagles' 4th-round pick last year out of Penn State. He didn't play a snap on defense last year and did not have a particularly strong camp.
Will Roseman keep Ostman or Toohill — or both — and release two players that cost the Eagles 4th-round picks? 
If that happens, Avery would be on the street before the Browns even used the pick they got from the Eagles. And Miller would be gone after just two special teams snaps.
Or will he keep one — or two players — who really don't deserve a roster spot simply because they cost 4th-round picks?
This is all complicated by injuries.
Barnett is out indefinitely, Curry has been out with a lower-body injury since early last week and Avery hasn't practiced in a week.
There's no easy answer. Either way, Roseman is setting himself up to be questioned. Either he cuts one or two guys he used fairly significant assets on or he cuts one or two guys who earned roster spots this summer.
Maybe he'll keep one of each. But then you have to wonder why he's keeping six edge rushers and going light somewhere else where the Eagles need bodies.
It's been a long time since the Eagles got good production out of a 4th-round pick. You have to go back to Jason Avant, drafted 14 year ago in the 4th round.
And whatever happens this weekend, whatever Roseman decides, that shows no sign of changing.
Copyright RSN