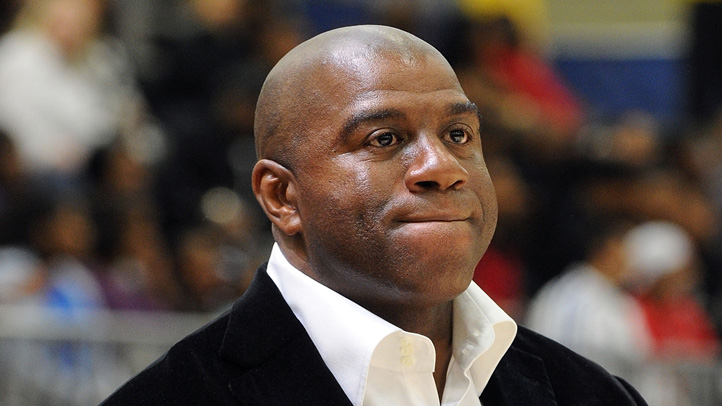 Well now, here's some morning news certain to rock the Phillies and the rest of the National League: NBA legend Magic Johnson and his consortium of bidders just bought the Los Angeles Dodgers for around $2 billion. TWO BILLION FREAKIN' DOLLARS. Holy guacamole, that's a lot of money.
Per the Dodgers website:
A deal has been struck between the Dodgers and legendary Laker Magic Johnson's bidding group for the Dodgers and Dodger Stadium for $2 billion, the club announced on Tuesday night. The purchase price is the highest amount ever paid for a North American sports franchise.
The $2 billion price tag is a full $600 million more than Forbes' magazine's estimated value of the franchise. That difference is just $5 million short of the average price of EVERY team in baseball. That's $2 billion for a struggling franchise that plays in the sport's third-oldest ballpark (a wonderful ballpark, I might add, but a very old one nonetheless).
Forbes recently estimated that the Phillies are worth $723 million -- good for fifth on Forbes' list. But this insane Dodgers deal has to warp that value significantly. In fact, the Dodgers sale will have a ripple effect on the sale prices of ALL pro sports franchises. If Magic and his crew were willing to pony up that much for Frank McCourt's divorce spoils, how much are the Phillies, with a new park and a consistent winning record, worth? A billion? A billion and a half? How much is the emotional markup involved when a rich person's ego is so large that they simply have to own a baseball team or a football team?
Magic's deal is unlikely to have an immediate effect on the Dodgers on-field performance. Indeed, who knows if that group will have any money left over to pay anyone after dropping down two B's. But the expectation in L.A. is that, in time, the Dodgers will again be a major-market powerhouse, ready to challenge the Phillies and Giants and anyone else standing in their way. Magic Johnson just made life a bit more difficult for the Phillies, and in several different ways.