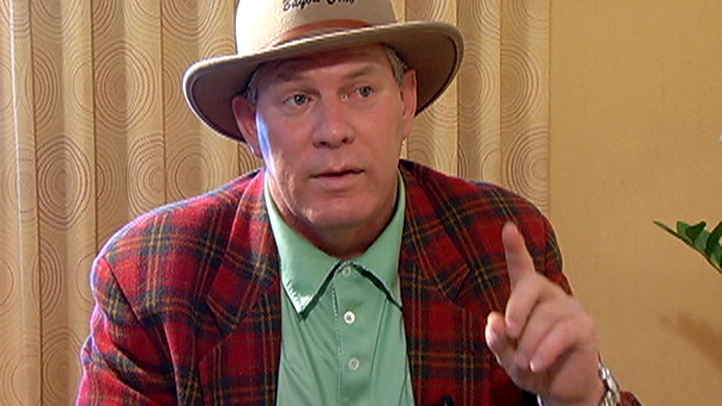 Late Wednesday, a tweet issued from Lenny Dykstra's Twitter account reached his followers.
"Guess who's back, back again #4"
The answer had little to do with Eminem. It had to do with the fact that Nails reached a plea deal with the state of California. Dykstra pleaded no contest to three counts of grand theft auto and one count of preparing false paperwork, which led a judge to release him immediately from the county jail he has called home for the last four-and-a-half months because he wasn't able to make bail.
Dykstra's not out of the woods yet, though. He still faces sentencing on the charges, although his plea knocks down any potential jail time from 12 years. He has a choice of accepting a guaranteed three-year sentence or he can risk an extra year in jail for the chance that a judge lets him off the hook for just probation in an alleged car-leasing scam.
When police were investigating those charges, they said they found a stash of drugs, including cocaine and steroids, in Dykstra's possession. Those charges were dropped as part of the plea deal that Dykstra agreed to on Wednesday. He remains accused of embezzling $400,000 from his bankrupt estate -- he's out on bail on those charges -- and also must deal with charges that he exposed himself to women applying for housekeeping jobs that he posted on Craigslist.
According to the New York Daily News, Dykstra went from jail to a friend's house in West Hollywood and will head to a drug rehab center in the near future. There's no word on whether or not the friend has anything to do with the reality television business, although a trip into that world seems like a no-brainer for the former Met and Phillie whose post-baseball career has been a pretty wild ride.
He went from being a player not often complimented on his brains to a Jim Cramer-approved stock market genius whose business acumen was lauded in profiles across the country. That all came crashing down amid one accusation of fraud after another, leading to the bankruptcy filing and the alleged crime that put him in the big house.
Dykstra's even got a hype man of great skills in business manager Daniel Herman.
"The events that transpired with Lenny's state case just prove his theory that truly the comeback is possible," Herman said. "When a man loses everything, he is capable of anything."
People have launched careers as reality stars on a lot less than that, so it would hardly come as a surprise to find Dykstra followed around by cameras as long as he isn't under the watchful eye of corrections officers.
Copyright FREEL - NBC Local Media