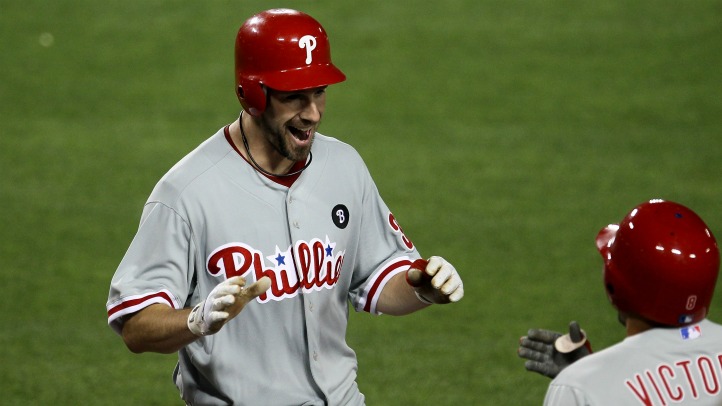 With apologies to Jim Croce, it seems like it is a good time to change the lyrics to one of his classic songs.
"You don't tug on Superman's cape. You don't spit into the wind. You don't pull the mask off that old Lone Ranger. And you don't mess around with Cliff Lee."
Kyle Kendrick should be the first to buy a copy of that revised single and commit its words to memory. We might have to put together a fund to help him make the purchase, however, because Kendrick's wallet is a little lighter this morning.
It seems that Kendrick decided it would be a good idea to bet against Lee in a home run hitting contest among the team's pitchers. That affront to Lee's hitting ability was on the lefty's mind as he crossed home plate after his second homer of the season on Tuesday night. On his way back to the dugout, Lee looked down to the bullpen and rubbed his hands together to let Kendrick know that he'd have to pay up.
The fun didn't stop there. Roy Oswalt called down on the bullpen phone to taunt Kendrick a little bit, but got cut off when the phone was needed for some actual baseball business. That's a bit strange given how well Lee has pitched (and hit) on this road trip, but sometimes work does get in the way of play, even for a team with as comfortable a cushion as these Phillies.
All kidding aside, Tuesday's homer was just the latest sign that Lee is more than just a pitcher. He's a full baseball player, one who can hit and one who can field his position with a cool nonchalence that doesn't pop up all that often in the big leagues. He also used Tuesday's homer to flaunt his talent for coming up with creative celebrations.
Some might argue that pitchers shouldn't spend much time coming up with elaborate post-homer hysterics. Those people clearly have never encountered Cliff Lee.
Copyright FREEL - NBC Local Media