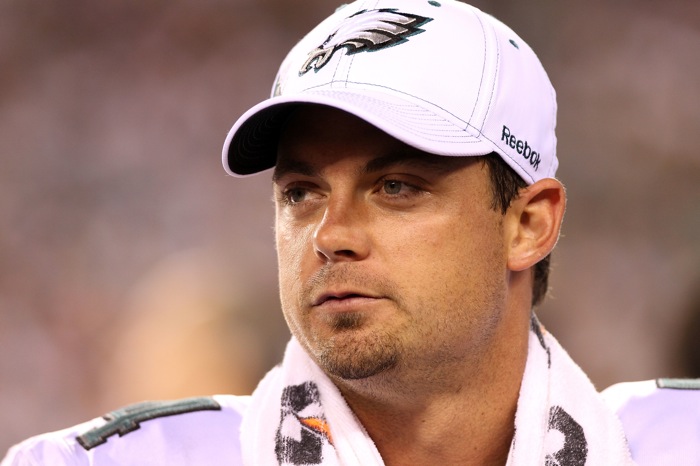 It's Labor Day, and we're now officially less than a week away from the Kevin Kolb Era beginning in earnest here in Philly.
You're excited. You've been waiting for this ever since Kolb was drafted to scare the living daylights out of Donovan McNabb four years ago. You've spent the entire off-season telling yourself that trading McNabb was the right thing to do, and that Kolb will take over the offense seamlessly. You've surely drafted Kolb one or two rounds too high in your fantasy draft. You've watched as experts and others have declared Kolb a potential sleeper among QBs.
And now, finally, you're finally ready to see what Kolb can do ruling the roost for the Eagles. It's getting closer. And now is juuust about the time for your brain to pipe up and wonder if the Eagles have gone and made a terrible, horrible, awful mistake.
Let's take a look at Kolb's preseason numbers -- which are meaningless -- yet terrible enough to alarm you anyway. No TDs. One pick. A passer rating of 63.7. Worse than that, a completion percentage of 52.8, and that was with the hope that Kolb would prove far more accurate than McNabb.
Kolb is a talented player, and he's surrounded by any number of talented skill position players to make him look good. But none of that alleviates the fact that, deep down, we have NO IDEA whatsoever if Kolb will be good enough to handle the load. None. Maybe he'll be a 4,000-yard passer and lead the Eagles to the playoffs. But he could just as easily crash and burn and give way to Mike Vick (GAHHHHHHH!!!) seven games into the season. And if you don't think there's any possibility of that happening, you've probably deluded yourself. Because it can absolutely happen.
That's the trade off of pushing out McNabb for Kolb. With McNabb, you knew what you were going to get. Much of it good. Certain parts of it excruciating. Bringing in Kolb represents the thrill of the new, the idea that a young passer can build on what McNabb did here and somehow make it all better. There's a sort of giddiness that only a new young QB can provide a team and its fan base -- Lord knows Philly needed that.
But with that excitement comes the fear of the unknown. The idea that, deep in the pit of your soul, you know it could all easily fall to pieces. Look at Kolb's preseason numbers and consider how he fared in his only full start against a good team last year (three picks against the Saints). Don't tell me he can't fail. Because he can. And so we're about to spend 16 weeks finding out if this entire bold new transition was worth it.
Fasten your seat belts.