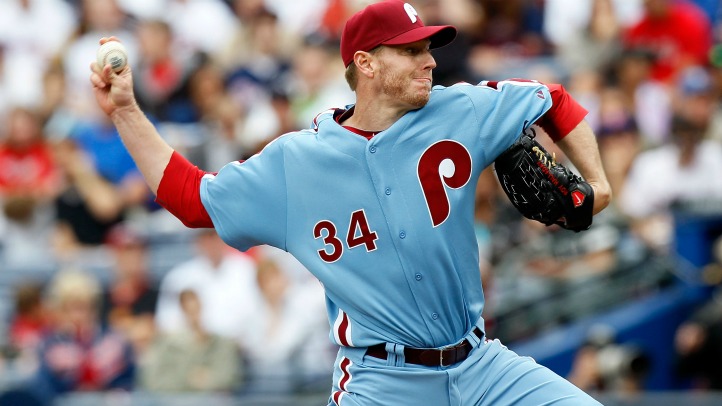 All-Star Games are the ultimate contradiction in sports because every player wants to be selected an All-Star without the pesky duty of actually having to PLAY in an All-Star Game. This is why the NFL Pro Bowl has roughly a 78 percent dropout rate. Players aren't stupid. You could get hurt out there! And fans aren't exactly overjoyed to see their favorite players risk injury for the sake of a game that has little to no meaning.
And that brings us to next week's MLB All-Star Game, which is an even dicier event since it comes mid-season. Your Philadelphia Phillies are extremely good, but the unfortunate byproduct of that excellence is that many of them will be forced to play in the All-Star Game, including pitchers Roy Halladay and Cliff Lee. Halladay and Lee rank fourth and seventh respectively in total innings pitched among all Major League pitchers. So, considering that the Phillies will want their aces rested and healthy come fall, how much should either guy pitch in the game? The 700 Level explored the issue:
Phils pitching coach Rich Dubee has said that he doesn't really like the idea of Roy starting the game, which would mean Doc would pitch two innings of work on Tuesday. But if any team should be seriously looking for a National League victory and subsequent home field advantage for the senior circuit, it should be the Phillies, right?
You'd think so, except when you look at the results of the All-Star Game versus the list of World Series winners. It was in 2003 that Bud Selig made the All-Star Game winner the recipient of home field advantage in the World Series. Since that time, The AL has gone 7-1 in All-Star Games, but just 4-4 in World Series. In other words, dominating home field advantage in the World Series hasn't kept the NL from winning half of the championships since the rule was instituted. So if you keep that in mind, do you really want Doc out there for one or two needless innings (NL manager Bruce Bochy will keep pitch counts on all pitchers during the game, as part of an unspoken gentleman's agreement, which is nice to have since if I were Bochy, I'd make Halladay pitch nine innings and start Lee at catcher)?
The answer is no. Even though it's a tiny workload in the grand scheme of things, it's still not worth seeing either man go out there. But come next week, they'll be trotted out nonetheless for the enjoyment of the baseball world, and you'll have to grit your teeth and pray for 30 minutes that no one tears an elbow tendon. All-Star Fever – catch it!