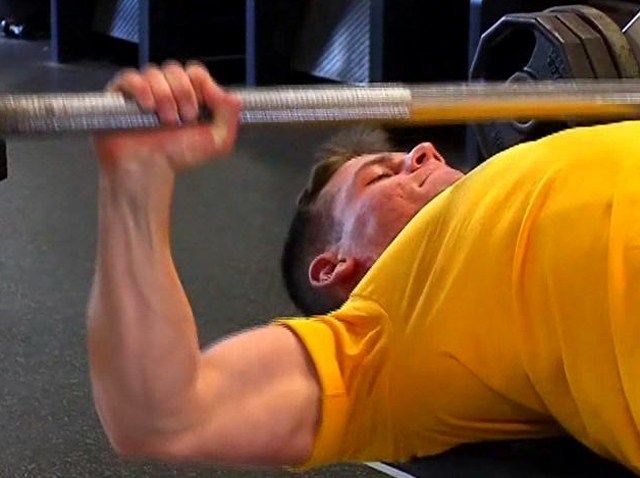 For five months, Eric Olmstead had to alter his training regimen. Unlike most weight-lifters, Olmstead didn't have the benefits of a typical gym. He worked out in the bowels of the USS Ronald Reagan, an aircraft carrier stationed in Afghanistan.
"We have benches and stuff on the ship, but the boat's moving around a lot so you can't really train too heavy," said Olmstead, 22. "It's pretty dangerous. If the ship takes a wrong roll, or turns and comes down on you, it'll end you."
Last month, just three weeks after returning to San Diego from Afghanistan, Petty Officer Third Class Olmstead bench-pressed 354.74 pounds at the World Powerlifting Championships in Las Vegas, shattering the world record for the 165-pound weight class.
And it wasn't close.
"By like, 12 pounds," he said.
He finished second in the overall weightlifting competition, which also includes the deadlift and squat..
For Olmstead, the record culminated an intense six-month period, which included 16-hour days working as a maintenance man aboard the aircraft carrier, providing upkeep for gears and catapults. After the long workday, he'd find a bench press and put in some training. With airplanes blasting above him, he'd try to stay focused.
"It's a lot of stress; sometimes it can be a stressful environment," he said. "I just stuck to the basics and just did more sets instead of doing higher weight."
His friends on the ship served as spotters -- and provided some emotional support.
"A lot of my shipmates keep me going and keep me motivated," Olmstead said.
Olmstead, a four-time national champion, has been competing in top-notch weightlifting competitions since he was 17. He grew up in a small Michigan town north of Detroit -- "a lot of country and farms," he said -- and sometimes had to drive hundreds of miles for competitions.
"My Aunt Dawn and Uncle Bill, they took time off work, they drove me to Omaha, Nebraska, for my first Nationals, and I ended up taking second place," he said. "That opened up some doors for me and I just kept pursuing."
As he went for the world record in Las Vegas, his family was cheering for him.
"My family was all there, so it was really neat and I didn't want to disappoint them at all, with them flying out there and me messing up or something," Olmstead said. "So I got really focused and did what I can do."
He's already focusing on his next goal: Winning the gold medal at the World Championships next year.