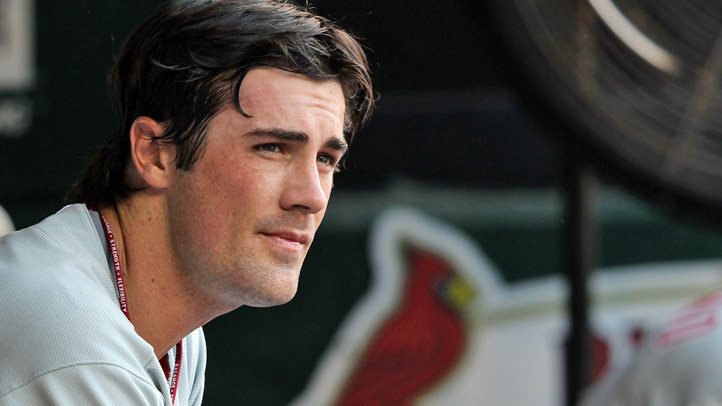 On Tuesday afternoon, the Phillies took one more step toward finalizing their 2012 payroll, when left-handed pitcher Cole Hamels and the team avoided arbitration, and agreed on a one-year contract worth $15 million. With any luck, this move should precede the next logical step in the process: A contract extension.
It's just not going to be cheap.
If his current contract is any indication, then Cole is in line to make a boatload of money after this season when he hits free agency for the first time in his career. And even though the Phillies have the inside track on the 28-year-old ace, it won't be nearly as simple as we'd like it to be, because brother, Cole is going to get paid.
Through six seasons, Hamels has a record of 74-54, with a 3.39 ERA in 1161.1 innings. He's struck out 1091 over that time and has a strikeout-to-walk ratio of 3.74. Oh, there is also the whole "World Series MVP" thing to consider, along with the fact that he's been one of the best southpaws in the game since he made his debut in 2006.
Adding fuel to the increasingly-expensive fire is his agent, John Boggs, who said that Cliff Lee's contract (five years, $120 million) is a better starting point than the one that Jered Weaver (five years, $85 million) with the Angels.
MLB.com's Todd Zolecki has more from Boggs:
"It would be natural to look at that as a comparison," he said. "Jered signed for his own personal reasons -- and I applaud him for that -- but it doesn't necessarily mean we're going to follow the same standard. Everybody is different. For Jered to sign there it doesn't mean that's the template we're going to follow."

Lee signed a five-year, $120 million contract with the Phillies in Dec. 2010. That certainly seems to be a better measuring stick for Hamels, right?

"Absolutely," Boggs said. "If you're this close to free agency, you start to make comparables of what you have the potential of making as a free agent."
For those of you who don't speak the language of the contract brokers, allow me to translate: Ka-ching! Seriously, let's just start calling him Cole Hamel$, because he is going to be stupid rich before this year is out.
Fortunately for the Phillies, they should be able to absorb another Cliff Lee-esque contract, but with three players currently earning $20 million per year, one can't help but view the Hamels situation through glasses of cynicism. With a World Series ring already on his finger and a resume that is growing more and more impressive by the day, Hamels could literally have his pick of the litter when it comes to which team he wants to play for in 2013 and beyond.
Personally, I'll be biting my nails until the Phils announce an extension. And the sooner the better, because the last thing any Phillies fan wants is Cole hitting the open market after the 2012 season.