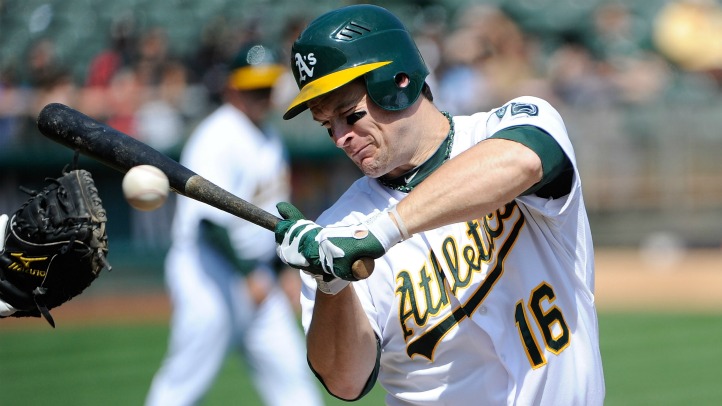 Ryan Howard had surgery on his Achilles on Tuesday.
Doctors deemed it a success (has there ever been an operation that doctors didn't deem a success without someone ending up in a morgue?), but the big takeaway was that they confirmed Howard had a complete tear. That doesn't mean Howard won't make it back at the more optimistic end of the timeline, but it should have the Phillies preparing for the possibility that he won't answer the bell at the start of the season.
That likely means a lot of time at first base for John Mayberry, leaving a hole out in left field. Domonic Brown is a possibility, although not a good one given the team's desire to see him play one more year in the minor leagues. Another run for Raul Ibanez seems like a longshot and handing the job to Ben Francisco full-time won't do much to help boost the team's offense.
So what about Josh Willingham? We know that the Phillies at least kicked the tires on the journeyman left fielder before the trade deadline last season, so it isn't far-fetched that he'd be on the radar screen again this offseason.
Willingham has a pretty similar profile to many of the players that the Phillies were looking at before trading for Hunter Pence. He's got good power (career slugging of .475) and has a history of getting on base at a good clip while playing poor defense. He's spent a lot of time in the NL East with the Marlins and Nats before going to Oakland last season.
And therein lies the rub. Willingham's 2011 campaign doesn't look terrible -- 810 OPS, .232 isolated power with home games in a pitcher's park -- but his rate stats were alarming. He walked in a 9.9 percent of his plate appearances, down sharply from his previous three seasons, and struck out in 26.6 percent of them. That suggests that pitchers stopped being afraid of challenging him over the plate, a trait that doesn't figure to get much better with Willingham turning 33 before the start of next season.
The upside of that is that Willingham doesn't figure to be fighting for too much in the way of money or years. The Phillies aren't likely to pick up someone who is going to block Mayberry or Brown in left for the long term nor are they likely looking to make a huge splash on any player whose biggest value comes from being protection against an extended absence by Howard.
Willingham offers them those things. There might also be a chance that he'd rebound offensively by joining a lineup that doesn't ask him to do the same kind of heavy lifting that the A's required last season. With almost no protection, it is possible Willingham's approach suffered from trying to do too much.
If Willingham does become a Phillie target, it will likely take some time to develop. He's not a player they will need to grab right away because he doesn't figure to be anyone's top priority in free agency. That said, he should be around once they've made their calls on Jimmy Rollins and Ryan Madson, and it might even mean they'll have a clearer picture of what Howard's recovery will be like.
Those are the best kinds of options for the Phillies in their search for help in left, making Willingham worth keeping an eye on as free agency starts to unfold.
Copyright FREEL - NBC Local Media