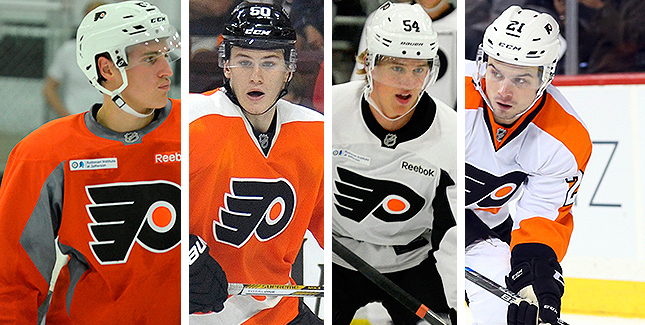 Throughout the offseason, we'll ask questions about the Flyers to our resident hockey analysts and see what they have to say.
Going End to End today are CSNPhilly.com reporters John Boruk, Tom Dougherty, Jordan Hall and Greg Paone.
Philadelphia Flyers
Complete coverage of the Philadelphia Flyers and their rivals in the NHL from NBC Sports Philadelphia.
The topic: Which Flyers prospect has the most to lose in 2017-18?
Boruk
When Flyers general manager Ron Hextall started preaching patience with the organization's prospects, the poster boy for that process was Sam Morin.
When Morin was drafted by then-general manager Paul Holmgren, the Flyers liked the defenseman's composition, his toughness and his athleticism, but knew he would require some significant grooming before his time arrived.
Four years later, that time appears to be now. Morin logged 246 games (including playoffs) in four seasons in the Q for the Rimouski Oceanic and another 155 games in two seasons at the AHL level for the Lehigh Valley Phantoms. That's a considerable amount of seasoning for the 11th overall pick in the 2013 NHL draft. The 10 previous picks in that draft all have at least 100 games played … at the NHL level. Once again, the maturation process is different for every player and Morin is well aware. Following his NHL debut in April, Morin, who's usually brutally honest in his assessments, told reporters he needs to be "more mature physically."
Even as Morin enters training camp with a spike in expectations, there is also an injury history to be a little concerned about - a freakish jaw fracture in 2014, hip and abdominal surgery in 2016 and he's coming off surgery on both wrists this summer. The latter injury is worth monitoring during training camp and the preseason. Regardless, that's the medical dossier of a player who's been in the NHL for five to six years.
By no means is this a make-or-break season for Morin, but it feels more like a make-it-happen type of year as the Flyers have a stable of young defensemen who are also closing in on the organizational depth chart. Robert Hagg, a 2013 second-round pick, made significant progress last season with the Phantoms and also gave a solid effort in his Flyers debut. There were moments last season when Hagg was Lehigh Valley's most consistent defenseman, and consistency goes a long way toward NHL stability. Travis Sanheim took a big leap in his first full pro season and his all-around, two-way game is better than any defenseman the Flyers have in their system, and Phil Myers is on the cusp of NHL readiness.
First-round picks, and certainly those selected in the top 20, come with an expectation that they will have some sort of impact at the NHL level. Morin's window of opportunity may not ever be as wide open as it is now.
Dougherty
It certainly wasn't a banner first professional season for Nicolas Aube-Kubel last year in Lehigh Valley, and this season will be an important one for the 2014 second-round pick.
Aube-Kubel tallied just nine goals and 18 points in 71 games for the Phantoms in 2016-17. The offensive production we saw from Aube-Kubel in junior did not immediately translate to the pro ranks, which isn't exactly out of the ordinary. In junior, Aube-Kubel said in July, scoring always came naturally. That doesn't happen in the pros.
During development camp, Aube-Kubel said his main focus in his first season at Lehigh Valley was paying attention to detail and fulfilling the role Phantoms coach Scott Gordon asked of him. It could explain the low point totals. Now settled in, Aube-Kubel's focus will be adding the scoring element he enjoyed in the QMJHL to his arsenal in the AHL.
He better.
Things have changed since the Flyers drafted him in 2014. The Flyers' system is deeper at all levels. It has more skill at every level. There's more competition at every level. Where does Aube-Kubel fit into the puzzle? It's hard to tell.
But with the prospect pool overflowing, Aube-Kubel could find himself on the sidelines if he doesn't make a sizable jump in his second season with the Phantoms.
There is a lot on the line this season for Aube-Kubel. It's a storyline at the AHL level to keep an eye on. It could be a make-or-break campaign for the 21-year-old.
Hall
Scott Laughton is still a prospect.
Yes, he had a full NHL season in 2015-16, but he turned 23 years old this past May and is from the same draft class as Anthony Stolarz. Laughton very much remains in the Flyers' youthful equation.
Hextall wasn't about to give up on a 2012 first-round pick this offseason. If anything, Laughton is still an asset for the organization as it moves forward. The restricted free agent was protected in the June expansion draft and then re-signed in July for two years.
Opportunity and time are waning, though.
Following 71 games with the Flyers in 2015-16, Laughton played just two in 2016-17. And now his competition is building in numbers. Last season, he wasn't up against Nolan Patrick, Oskar Lindblom and Mike Vecchione.
At this point, Laughton is just fighting for a roster spot. So while he has essentially bought himself two more years, if he doesn't carve out a role or take strides this season, imagine how buried he could be when the Flyers' forward depth becomes even deeper in 2018-19? Valtteri Filppula and Matt Read are set to be unrestricted free agents that offseason, but that's it. Take into account more prospects and potential free-agent additions, and Laughton's future in Philadelphia would become awfully precarious.
He's an invested player. He works hard and his time hasn't run out … yet.
Paone
With as desperately as the Flyers are yearning for scoring, and especially so from the wing, the consensus of many is that 21-year-old Swede Oskar Lindblom is a virtual lock to make the Flyers out of training camp and don an orange and black sweater come opening night at Shark Tank in San Jose.
With the way Lindblom tallied 39 times and added 49 assists in his age 18, 19 and 20 seasons against men in the SHL the last three seasons, the odds are in his favor to be a Flyer come October. Recognize his spike last season in Sweden with 22 goals, and the odds jump even higher that Lindblom breaks camp with the big club.
The key words above, though, are "virtual lock."
Despite the hype and expectations, nothing regarding Lindblom's status is etched into some sort of stone tablet Hextall is holding in his hands as he watches his team from his perch above during camp and the preseason slate.
The talented, young winger still needs to come into camp and have a good showing to earn his spot.
The Hextall way of prospect development is to let a kid get as much seasoning as needed at the AHL level rather than pushing him immediately in the NHL. That's just the way he thinks and operates. Always has been, probably always will be.
That's not to say a kid can't come in and change his mind. There are exceptions. See: Provorov, Ivan.
But if Lindblom, the Flyers' fifth-round pick in 2014, comes in and has a poor showing, that could hurt his standing within the organization and Hextall could be more apt to take on a veteran, say, for example, Colin McDonald, rather than a rookie with limited North American experience (eight games and two goals with the Phantoms at the end of 2015-16) who just struggled during training camp.
If Lindblom underwhelms and flames out during camp, it could hurt both his confidence and the confidence Hextall has in him. And Lindblom would have to do plenty of work in Lehigh Valley to earn that trust.
At the end of the day, count the guy writing this among those who firmly believe Lindblom will make the Flyers out of camp.
But that doesn't change the fact there is still a heck of a lot at stake for Lindblom in the coming weeks.
Copyright CSNPhily