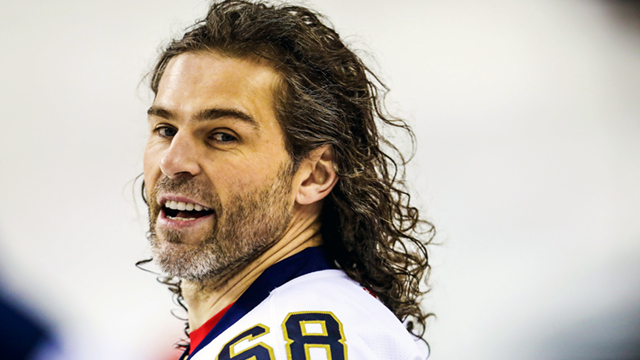 Throughout the offseason, we'll ask questions about the Flyers to our resident hockey analysts and see what they have to say.
Going End to End today are CSNPhilly.com reporters John Boruk, Tom Dougherty, Jordan Hall and Greg Paone.
The topic: Jaromir Jagr is still available … Flyers?
Philadelphia Flyers
Complete coverage of the Philadelphia Flyers and their rivals in the NHL from NBC Sports Philadelphia.
Boruk
It's extremely rare for Philadelphia to have this endearing loyalty to any athlete following a one-year love affair, but from Day 1, Jagr connected with hockey fans on South Broad. He had the hair, the smile, the occasional salute, his tireless dedication to his craft, but there was more to it than that.
Understand one of the biggest reasons Jagr is so revered in Philadelphia was his decision to spurn the Penguins at the last minute to sign with the Flyers. He rejected old friend and former teammate Mario Lemieux so he could join their most heated rival. You just can't buy that level of respect and admiration!
Playing on a line with Claude Giroux and Scott Hartnell for much of that 2011-12 season, Jagr turned in a respectable 54-point season. That trio clicked for the first three months of the season, but Jagr started to fade after December as he re-acclimated his body and conditioning to the NHL's 82-game schedule, which came four years after his last season in the NHL with the Rangers. He also struggled to contribute in the playoffs with one goal in the Flyers' 11 postseason games.
Since that season, Jagr has bounced around the league, playing for four different teams since 2012 - the Stars, Bruins, Devils and Panthers. His act would play perfectly on the Vegas strip, and Jagr has proven he can still contribute into his mid-40s. He's recorded 30 assists in each of the past four seasons - a total that only 35 other players have achieved.
At the very least, Jagr deserves to outlast the NHL career of Chris Chelios, who played seven games for the Atlanta Thrashers at the age of 48.
If this Flyers team needs Jaromir Jagr to reach the playoffs again, then it's in some serious trouble. After further thought, why not bring Jagr in on a training camp invite, if anything, to make training camp fun again? He could fill our smartphones and tape recorders with quotes for half a season. He could mentor the prospects and put a smile on Little Mario (his nickname for Giroux). In fact, I could probably sway Jagr to return with little more than a gift card to Costco. He took $2 million for one year to join the Devils and then proceeded to score 24 goals and 67 points in 2014. If Ron Hextall was so inclined, he could sign Jagr at a 50 percent discount. One million dollars for one season would get it done.
Dougherty
Flyers GM Hextall vehemently downplayed the idea of signing Jagr, or any other veteran free agent that would block the youth movement, on July 2. "Not the direction we're going in," he said then. But as we enter the dog days of the NHL summer, Jagr remains without an NHL contract.
I don't believe signing Jagr would fit into the Flyers' plans. It doesn't align with how Hextall runs his operations, and Hextall is on the record saying Jagr isn't where he's headed. But. How Jagr still doesn't have a contract baffles me. He's still productive and would improve any team that signs him. He would be an instant upgrade to the Flyers. There's no doubt.

Perhaps the biggest roadblock as to why Jagr remains unsigned is the role he wants and the role NHL teams believe he's capable of handling as he turns 46 in February. Last season, Jagr scored 16 goals and 46 points for the Florida Panthers, who have moved on from the future Hall of Famer. Those 46 points would have ranked sixth on the Flyers, and his 16 goals would have ranked fourth on the team - ahead of team captain Giroux's 14.
Jagr remains in phenomenal shape. His workout regimen is one of legend. But as he approaches 50 years old, there's no denying he wears down as the season goes on. That's been the story the last few seasons in Florida, where he's been ever so productive but has worn down. Perhaps Jagr realizes this, perhaps NHL teams realize this too.
Perhaps we're making too much of the fact that Jagr remains unsigned. Could he decide to head back to the KHL, where he could be guaranteed a large role? I think that is very much a realistic possibility at this point in time. But I also believe teams could prefer waiting to sign Jagr, rather than bringing him in for the start of the season. I could see teams waiting out as long as possible before offering Jagr a contract enticing enough for him to sign.
And perhaps Jagr is OK with this too. It is astonishing to see him unsigned - I still think he belongs in the NHL and that he can still play, and play at a high level too. In the end, I do think we'll see Jagr in the NHL again this season - when and where is the question.
I don't think it will be the Flyers. But the obvious answer is: Yes, Hextall and the Flyers should consider Jagr. Every NHL team should. Because at 45 years old, Jaromir Jagr is still a very productive player and he will make an impact anywhere he goes.
Hall
Albeit an interesting thought and a bit more intriguing now with Jagr still out there, my answer is the same as when we discussed a possible Hartnell reunion.
No.
Jagr can still play - maybe he could help the Flyers in a few areas, both tangibly and intangibly.
But this season should be about taking a step forward by injecting more youth into the equation. The Flyers finally have some opportunity for prospects to make the jump and start their NHL development. And the kids are expected to make an impact, too.
Last season, we saw the positives of having youngsters in Ivan Provorov and Travis Konecny. This season, it's time for many more. Hextall even acknowledged that just four days after the 2016-17 regular season ended.
"Our young players, they've done enough," he said. "Our young players are going to get a long look. We don't plan on going out and signing veterans on the back end. Our kids, it's time to give them a shot, and we're going to do that."
If the Flyers wanted to sign Jagr, it would obviously be for one season. Still, that's one season of blockading a forward prospect from being here or playing meaningful minutes - someone like Mike Vecchione or Scott Laughton (yes, he's still a prospect and worth watching). Or, it could even change a lot for the likes of Oskar Lindblom and Nolan Patrick.
As fun as it would be to see Jagr back in Philadelphia, the answer here is an easy no.
Paone
With all due respect to Jagr (and he's an absolute legend who's due a lot of it), that ship has sailed here in Philadelphia.
Let's weigh this out here: What could a soon-to-be 46-year-old Jagr bring to this group of Flyers?
Sure, he could bring that invaluable leadership and example to the Flyers that was so important during the 2011-12 season. Remember the effect he had that year alongside Giroux, who ran wild across the league with a career-high 93 points? A handful goals and points here and there from Jagr would always be helpful, too.
But no way does that stuff outweigh eating up a roster space for a young player who's ready for a taste of the NHL level and using any precious cap space on the oldest player in the league rather than keeping more of the already slim flexibility the Flyers have.
Hextall's vision is all about the youth and development from within. That's the focus of the club from top to bottom right now. Needless to say, Jagr doesn't come anywhere close to fitting that vision or focus. I doubt Jagr has ever even popped up on Hextall's radar this summer. Want proof? During a conference call earlier in the summer, Hextall was asked about Jagr and emphatically slammed the door shut on that idea in not so many words, as Tom mentioned above.
The fact of the matter here is the Flyers just don't have a spot on the roster or a role for him - Jagr never has been and never will be a fourth-line player. Why even consider him if there's no roster spot, no role, he doesn't fit the vision the team has molded for itself and if cap space is at a premium? Why even waste the energy or breath?
Do I feel Jagr will get picked up before the season starts? Yeah, I do, by a team closer to a legitimate Stanley Cup contender that's looking for some veteran punch. And he'll make an impact because that's just what a legend like him does.
That team just isn't the Flyers.
Sorry to burst your bubble.
Copyright CSNPhily