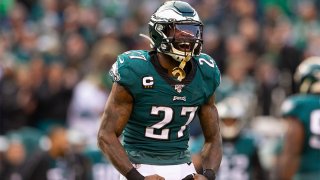 Malcolm Jenkins, one of the most recognizable sports stars in Philadelphia, has been released by the Eagles.
Jenkins, who helped lead the Eagles to their first Super Bowl championship in 2018, will become an unrestricted free agent, the team said in a statement posted to their website.
Jenkins later penned a letter to his fans on his Instagram account.
During his six years with the Eagles, Jenkins was a three-time Pro Bowler, unquestioned leader on his side of the ball and almost never left the field in an era where the Eagles finally won their first Super Bowl.
Since his arrival in Philadelphia as a free agent in 2014, Jenkins played 6,818 of 6,908 total defensive snaps (98.7%) in the regular season and playoffs. He missed a total of 90 and 60 of those came in the meaningless regular season finale in 2017. And he played on special teams all six years.
Philadelphia Eagles
Complete coverage of the Philadelphia Eagles and their NFL rivals from NBC Sports Philadelphia.
On top of all that, Jenkins played safety, nickel cornerback and linebacker. That versatility allowed the Eagles to get by during some lean defensive years.
Simply put: Jenkins will go down as one of the greatest free agent acquisitions in franchise history. Heck, he'll go down as an all-time great in franchise history. Jenkins ended up playing for the Eagles longer than he did in New Orleans, where he began his career.
In his six seasons with the Eagles, Jenkins filled up stat sheets: 11 INTs, 4 TDs, 58 PD, 12 FF, 6 FR, 515 tackles, 32 TFLs, 5 1/2 sacks and 15 QB hits.
Aside from all that, Jenkins was a steady leader in the locker room as well as a staunch supporter of social justice and an active philanthropist in the community. He had every quality football teams are looking for in players.
Now, the Eagles have the unenviable task of trying to replace him. They began that process on Tuesday by re-signing Jalen Mills to a one-year contract under the reported premise that he will be some sort of hybrid safety/cornerback.
But there is still plenty of work to be done. We're talking about replacing an all-time great here.