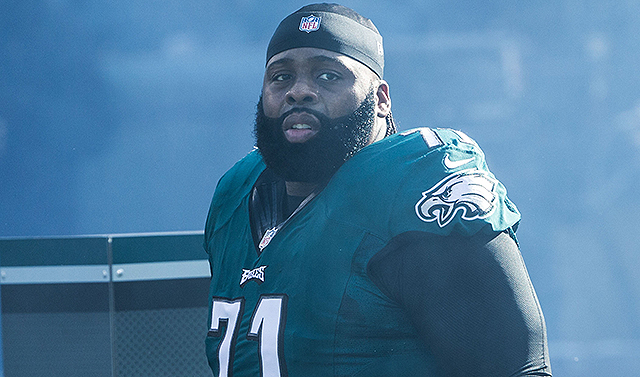 The Eagles have made it pretty clear that they'd like to have Jason Peters on the team in 2017, but it's not going to be cheap.
Apparently, the Eagles have already approached Peters about taking a pay cut, according to a report Tuesday night by ESPN.
Philadelphia Eagles
Complete coverage of the Philadelphia Eagles and their NFL rivals from NBC Sports Philadelphia.
Peters, 35, will have a salary cap number of $11.7 million in 2017 after hitting another contract escalator after making his ninth Pro Bowl team last season. That's a pretty big cap number, but not outlandish for a starting left tackle.
The Eagles will have just under $8 million in salary cap carryover for 2017, but will have just under $11 million in cap room. Of that, $4.5 million will go to rookies. That doesn't leave much room left, so some tough decisions are likely looming (see story). The Eagles will need to figure out their salary cap situation before free agency begins on March 9.
Could this be one of them? If Peters doesn't agree to a pay cut, the Eagles could cut him and save $9.7 million, but the offensive line would likely be much better with the veteran back at left tackle next season.
"We certainly want to have him back," Eagles vice president of football operations Howie Roseman said of Peters in early January.
"I love him. I want him on the team," head coach Doug Pederson said with two games remaining this past season. "I don't want him to go anywhere."
While Peters turned 35 last month, he is coming off his ninth Pro Bowl season and had a much better year in 2016 than he did in 2015. During the season, he expressed his desire to return for another season of protecting Carson Wentz's blindside.
Peters just finished his 13th NFL season and is hoping Wentz might be the ticket to hoisting the Lombardi Trophy. In December, Peters was asked if he thought Wentz could reach his potential before Peters' time in the league was over.
"I hope so. I really hope so," Peters said (see story). "Because I really want a ring. It would be sad to play all these years and not even get close."
Copyright CSNPhily