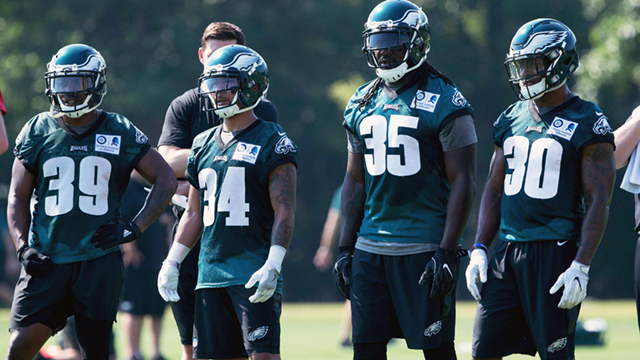 The way the Eagles use their running backs this season is one of the biggest question marks surrounding the team.

For a long time, it seemed like the Birds were ready to go into the season with a combination of Wendell Smallwood, Darren Sproles and a rookie. That rookie turned out to be Donnel Pumphrey, whom the team took in the fourth round.

With Ryan Mathews on his way out, it looked like those three would be the Eagles' primary running backs.

Then, they went out and signed LeGarrette Blount.

Blount, 30, is coming off the best season of his seven-year career in 2016 with the Super Bowl champion Patriots. He carried the ball 299 times for 1,161 yards and 18 (!) rushing touchdowns.

During the spring, Blount - when he was there - took first-team carries, but so did Sproles and sometimes Smallwood. And sometimes the team used Sproles and Pumphrey on the field together in the "pony" set.

So maybe Blount will just be the Eagles' bell cow back. But it also seems possible he'll be a part of some sort of running back rotation that we don't know the composition of quite yet.

History has shown that Doug Pederson comes from the Andy Reid school of pass-first offense, but running backs coach Duce Staley has said Pederson's assured him he's going to run the ball more this season. But even when Pederson doesn't run the ball, he still uses his running backs to catch passes out of the backfield. That part makes the Blount signing all the more curious - he's never really been asked to do that before.

So the first question we'll need to answer this training camp and in the preseason surrounds just how Pederson and the Eagles plan on piecing this together. While these four players might not exactly be fighting for roster spots, they're certainly fighting for playing time and increased roles.

And then there are the leftover running backs - Byron Marshall and Corey Clement, one undrafted player from last year and one from this class. Two very different players. Clement, at 230 pounds, might have had a really good shot at making the roster before the Blount move. Now, he might need to try to hold on to a practice squad spot. And what about Marshall? The smaller back from Oregon showed some promise last season but spent most of the season on the practice squad.
Copyright CSNPhily