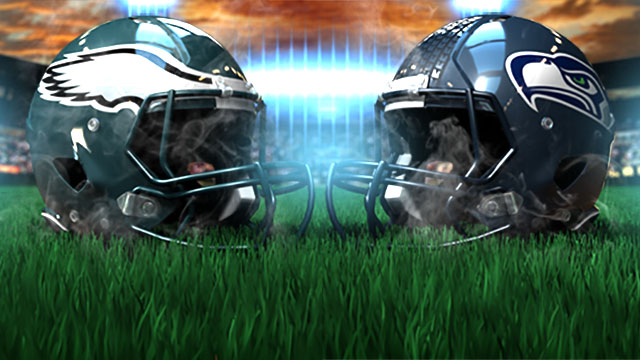 Eagles-Seahawks 5 things
4:25 p.m. on FOX
Eagles +6.5
Coming off of what some might deem a signature win, the Eagles turn right around to take arguably their toughest test of the season to date. The Seahawks have a championship pedigree, and there are few if any places as difficult to play than CenturyLink Field in Seattle.
Philadelphia Eagles
Complete coverage of the Philadelphia Eagles and their NFL rivals from NBC Sports Philadelphia.
As if any cross-country road trip wasn't difficult enough, the Seahawks can easily be considered the class of the NFC. A win on Sunday would certainly stand to elevate the Eagles' standing around the league, not to mention keep them in the thick of the playoff race.
Carson Wentz vs. the Legion of Boom
When analysts were asking whether Wentz would be able to make the jump from FCS North Dakota State, it was secondaries like this they were worried about. While the rookie signal caller hasn't looked overwhelmed by any challenge NFL defenses have thrown at him yet, he's never seen anything quite like the Seahawks' defensive backs.
The Legion of Boom is big. They're fast. They make plays on the football and do just about everything well. All-Pro Richard Sherman and DeShawn Shead are a pair of tall, long cornerbacks who take away the perimeter, Kam Chancellor can act almost as a fourth linebacker yet drop into coverage seamlessly, and Earl Thomas has the range to take away everything over the top.
There's no denying Wentz's ability, but there isn't going to be much room for error on Sunday. If the 23-year-old posts a prolific or even efficient line against Seattle, that's something special in itself — especially considering the Eagles' receiver situation.
Jordan Matthews, Zach Ertz up in the air
There's a reason the Eagles have the 26th-ranked aerial attack in the NFL, and Wentz is hardly to blame. The much-maligned receiving corps clearly is the larger issue, and worse yet, the group might be short-handed against this venerable Seahawks defense.
While Matthews (back) and Ertz (hamstring) both intend to play, they each missed at least one practice this week and officially are listed as questionable. The Eagles are even taking practice-squad standout Paul Turnout to Seattle just in case Matthews is unable to suit up.
If either one winds up ruled out on Sunday, that would be a bad omen. Matthews and Ertz have combined for 77 receptions for 844 yards and four touchdowns through the air this season. All other Eagles receivers and tight ends have 66 catches, 756 yards and three scores. It's difficult to envision a way the offense could consistently move the ball without its top two targets.
The Jimmy Graham effect
Meanwhile, on the other side of the football, the Seahawks are enjoying a boost in their own passing game this season. Now in his second year with the club, Graham seems to have built a rapport with quarterback Russell Wilson, and the three-time Pro Bowl tight end has returned to form as one of the biggest match-up problems in the NFL.
From 2011 to '14, Graham averaged 88 receptions, 1,099 yards and 11 touchdowns per year with the Saints, but last season had just 48 catches, 605 yards and two scores in 11 games. While the seventh-year veteran isn't quite on pace to match the ridiculous numbers of the past, he currently projects to finish with a very strong 74, 1,054 and four.
6-foot-7, 265 pounds with 4.5 speed and a 38.5-inch vertical, Graham is still a freak athlete, even if he is set to turn 30 this week and some of those physical traits are beginning to decline. He'll certainly be an X-factor on Sunday, because let's be honest, who on the Eagles' defense is going to match up?
Don't dismiss the Seahawks' running game
After years of relying on Marshawn Lynch to pound the rock, the Seahawks' ground attack has been extremely dismal without Beast Mode in 2016. Seattle's offense ranks 30th in the NFL in rushing, and 31st with a 3.3 average per carry, proving that it's no fluke.
That being said, a shake-up is on the way. In fact, it already began last week, with third-round draft pick C.J. Prosise taking the bulk of the carries last Sunday. Prosise's role has been on the rise for three weeks now, with 24 carries for 98 yards and 12 catches for 173 yards. It was enough to allow the Seahawks to release leading rusher Christine Michael, and while Thomas Rawls returns from injury, he has not been effective.
Unlike Michael or Rawls, primarily between-the-tackles runners, Prosise is a more dynamic option. At least the Notre Dame product is more likely to turn the corner and catch a pass out of the backfield. The Eagles' run defense has been good and Seattle's ballcarriers disappointing, but that could be subject to change this Sunday.
Playing keep-away
Last week, the Eagles recalled their winning formula from earlier in the season. Run the football, move the chains, keep opposing offenses off of the field, and by doing all of that, control that clock. They're second only to Dallas for the season in time of possession.
That strategy is going to be a lot easier said than done this week though, as the Seahawks are allowing just 3.5 yards per carry, second-lowest in the NFL. That tends to make the whole ball-control offense much more difficult to execute, seeing as the Eagles are likely to find themselves in long third downs, and against a defense that's not anymore susceptible to the pass.
Yet the Eagles have to continue to run the ball regardless of how successful it is, if for no other reason than reduce the Seahawks' opportunities. Shorten the game, play the field-position battle, avoid turnovers, and there's no reason they can't keep things close. If they manage that, who knows, an upset may just be within reach.
Copyright CSNPhily