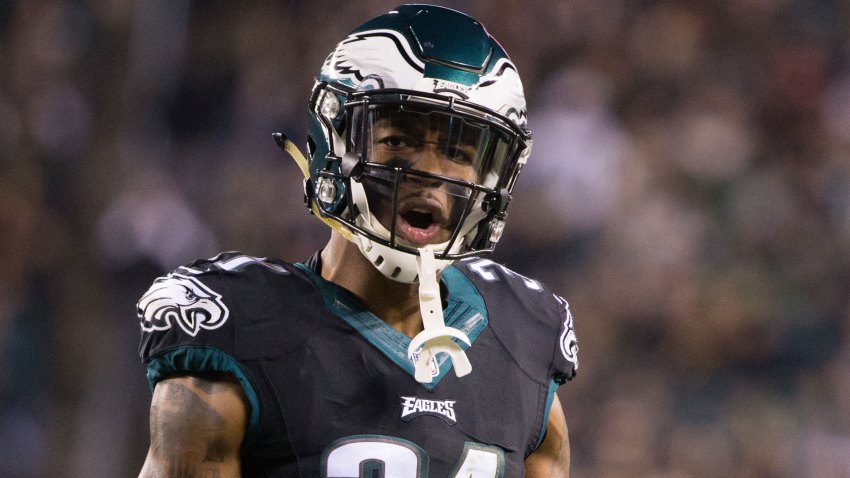 If it felt as though Eagles cornerback Jalen Mills was involved in every other play against the Giants on Sunday, well, that's actually not too far off.
We knew Mills saw a lot of action. He was shadowing Giants wide receiver Odell Beckham Jr. for most of the afternoon, which is usually a sure sign a lot of footballs are going to come your way. One look at the box score can tell you Mills finished with a game-high 12 tackles.
Philadelphia Eagles
Complete coverage of the Philadelphia Eagles and their NFL rivals from NBC Sports Philadelphia.
That only tells part of the story. The Giants went after Mills so much, it made history.
Mills was targeted 21 times in coverage, according to Pro Football Focus - the highest number any cornerback has faced in over 10 years. PFF's numbers only date back to 2006, but even if it's only the most in the last decade, and not all-time, that's still saying something in the increasingly pass-happy NFL.
To put that in perspective, Giants quarterback Eli Manning threw 47 passes total, so nearly half went to Mills' man.
And how did Mills fare? Predictably, it was a mixed bag. Manning completed 71.4 percent of those attempts for 119 yards. Thirteen of those targets alone were for Beckham, who finished with nine receptions for 79 yards and two touchdowns.
When you put it like that, it sounds bad. However, the Eagles - Mills included - were playing a lot of off-man coverage and conceding routes underneath. So while Mills allowed a high volume of completions, those plays only amounted to 5.7 yards per attempt.
Granted, Beckham found the end zone twice. More often than not, Mills was limiting Giants receivers to short gains. In fact, the longest completion the second-year defensive back allowed went for 14 yards, as well as only 23 total yards after the catch.
"Besides those (two touchdowns), you always want them back in the red zone," Beckham said. "Both were contested. Both were short. For the most part of the game, I think I played pretty well."
PFF described it as "death by a thousand paper cuts," but it wasn't Mills' death at all. All things considered, he did pretty much what the banged-up Eagles defense needed him to do to secure a victory.
Copyright CSNPhily