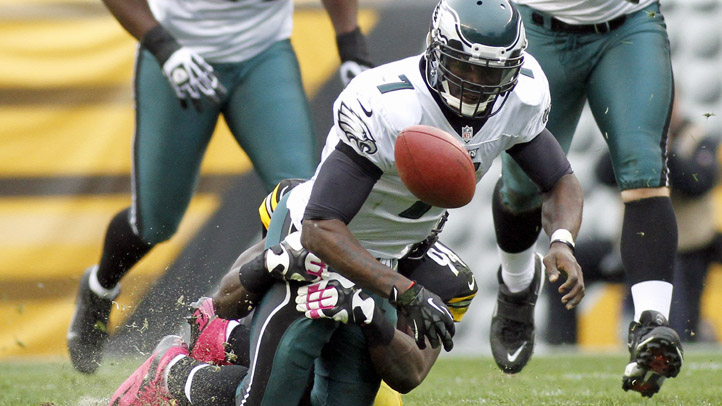 Remember when the Eagles used to be a scoring machine?
Just two years ago the Eagles led the NFC while averaging just above 27.4 points per game. Even last season the Birds posted a respectable 24.75 points per game.
This year Mike Vick keeps mishandling the ball in the red zone and the Eagles have failed to mount scoring drives as they've sputtered to an NFC worst 16 points per game through Sunday's16-14 loss at Pittsburgh. The only of the NFL's 32 teams worse than the Birds at putting points on the board are the lowly Jacksonville Jaguars.
The scoring woes -- the defense hasn't scored either -- and the role Vick's turnovers (11 through five games) have played in keeping the Birds out of the end zone haven't been lost on head coach Andy Reid -- even if he didn't mention Vick by name in his opening remarks at Monday's press conference.
"You can't have the turnovers that we had in the first half. That is not helping our scoring cause during games. It's hindering our ability to score. It's keeping us down in that latter part – the second-lowest scoring team in the National Football League right now. We've got to make sure that we fix that. Turnovers are something that you have to focus in on at practice. You have to make sure that you are aware of that during the game, that your ball security is right. We've done well with the interception part of it, and we're doing a better job with the protection part of it, with the decision-making part of it. We have to do a better job taking care of the football."
When pressed out how he plans to fix Vick's fumblitis, Reid offered this:
"You emphasize it. As a coach, you emphasize it. You continue to emphasize it in practice. That's what you do. And as a player you make it happen. You have to make sure you keep the ball high and tight and that you cover it in traffic. When things are live and they are going fast in the game you make sure you go back to those fundamentals to get it taken care of."
As for what Reid plans to do to jumpstart the offense:
"Offensively we're playing against good defensive football teams so there's certain things you have to do and we have to do them better. You've got to have a good mix. You've got to have the blend of shots down the field, you've got to have that threat, you've got to have your short-intermediate game going, you've got to be able to move the pocket a little bit, and you've got to be able to run the football. We just have to do it better."
Will they get the timing down in time for Sunday's showdown with the Lions? Your guess is as good as mine.