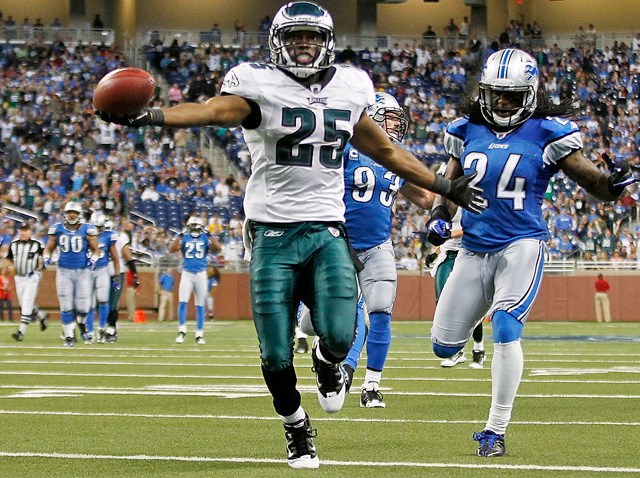 All everyone will want to do is talk about Michael Vick's performance Sunday in his first start in the NFL since George Bush was president but the Eagles backup QB's one-week moonlight as a starter wasn't the main reason the Eagles clobbered the Lions.
Running back LeSean McCoy and a stout second-half defense were the reason the Eagles cruised to a victory in Detroit.
McCoy put up three scores while breaking the 100-yard rushing mark for the first time in his career. Shady did a little bit of every type of running from going off tackle to taking pitches off the end to total 120 yards on 16 carries on the ground.
By taking it to the house three times, McCoy became the first Eagles back in 15 years to rush for three TDs in game, according to Les Bowen. The last Birds runner to put home three rushing scores in a game was Charlie Garner back in 1995.
Vick did a good job managing the offense as he found eight different receivers Sunday as he went 21-of-34 for 284 yards. His favorite target was DeSean Jackson who hauled in four passes for 135 yards and a score.
As for the defense, it's difficult to say that a unit that gave up 444 net yards had a good day but when it counted most the Eagles D came up huge.
Yes, they allowed Detroit's running back Jahvid Best to put up three TDs of his own -- two while rushing for 78 yards and another while catching 154 yards through the air. And, they allowed a 35-17 lead to dissipate to 35-32 with less than two minutes remaining. But, in the end the Eagles defense came up big and stopped the Lions to hold onto the three-point win.
The Eagles unit without starting middle linebacker Stewart Bradley was able to pressure Detroit QB Shaun Hill into two sacks, plenty of hits and two costly interceptions.
They will need to tighten up their coverage of the running back and tight end for next week considering they allowed both Best (154 yards) and tight end Brandon Pettigrew (108 yards) to break the 100-yard plateau.
One Eagle that shined again was free safety Nate Allen who became the first Eagles rookie since 1979 to grab an interception in his first two games of the season.
Moving forward, the Birds will be with starting QB Kevin Kolb and Bradley next week, they announced before the game. So, don't expect a repeat show of Omar Gaither's 11 tackles (and getting beaten time and again by Pettigrew) nor a repeat of Vick's nearly 300-yard performance. Hopefully the Eagles won't need it against the Jaguars.