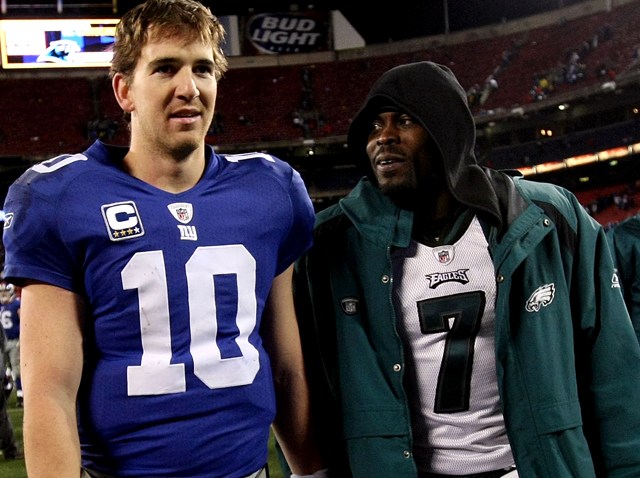 Michael Vick quickly shifted his focus after his latest dominant performance thrust him into the national spotlight.
"After the game was over, we just realized we had to go on to the next one,'' Vick said.

With the New York Giants (6-3) coming in for a first-place showdown against the Philadelphia Eagles (6-3), Vick had little time to reflect on a record-setting effort that has people talking about him being an MVP candidate.
"You can enjoy the win for a day or two but after that, you've got to refocus and you've got to understand what's most important and that's the next game.''

Vick had perhaps the best all-around game by a quarterback in Philadelphia's 59-28 win at Washington on Monday night. He became the first player to record 300 yards passing (333), 50 yards rushing (80), four TDs passing and two rushing in the same game.

Everyone was watching in awe, including the Giants.

"We're trying to get the 12th man out there,'' New York coach Tom Coughlin joked. "No, you have to obviously try to contain and keep him inside and not let him outside and there's all kinds of strategic things that you say you can do and you must do, but you have to time it up with the right circumstances, the right play, the right situation.''

This will be Vick's first start with Philadelphia against New York, and he'll have another national audience when the game airs on NBC10 Sunday night.

Coach Andy Reid didn't have to caution Vick about letting his success affect him. Vick's comeback story is a remarkable one, reviving his career after missing two seasons because he spent 18 months in federal prison for his role in a dogfighting operation.

"Listen, Michael knows this better than anybody and I don't have to really say a word to him,'' Reid said. "You could be on the top of the mountain one day in the National Football League and at the bottom of the well the next day. That's how this thing works.''

In the last meeting against the Giants, DeSean Jackson had 178 yards receiving, including a 60-yard TD catch, and he had a 72-yard punt return for a score. Wideout Jeremy Maclin and running back LeSean McCoy also had big games against New York last year.

"They're an excellent screen team, they're a big personnel team, they rush the ball, they rush the ball with (Vick), they run the nakeds, they break perimeter,'' Coughlin said. "They do a lot of things that if you think you have a handle on how you're going to be able to have some containment on him, they find a way -- he finds a way -- to break it down.''
Eli Manning will make his 97th consecutive regular-season start, third-longest behind Favre and his brother, Peyton. He's 6-7 against the Eagles, including a pair of playoff losses.

"Obviously they're very talented and do a good job mixing blitz with coverage and disguising," Manning said. "We have to run the ball and be effective, don't go backwards, and be consistent. Take what they give you.''

The Giants are coming off a stunning 33-20 loss at home to the lowly Dallas Cowboys.
The Eagles are gaining momentum after beating Indianapolis and destroying Washington.

"It never amazes you or maybe it always amazes you in the sense that in one week that everyone is talking about the way they're talking about Philly this week,'' Manning said. "They were talking about us last week. Either way, it can't go to your head..."
The Giants have the top-ranked defense in the league, so Vick and Co. have a difficult task against the Big Blue.

"Nothing comes easy,'' Vick said. "It's not going to be easy against New York. It wasn't easy against Washington. It may have looked easy, but it wasn't.''
Copyright AP - Associated Press