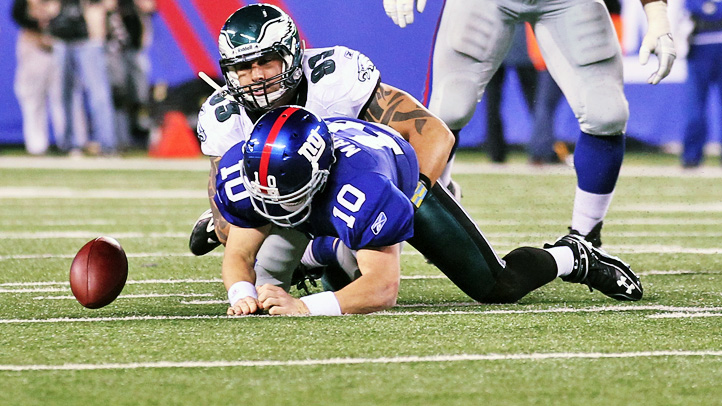 Our football-picking NFL "experts" seem more like "amateurs" thanks to a 1-2 record so far at picking Eagles games this season. With the Giants headed into the Linc for a Sunday Night Football showdown, our "experts" are looking to redeem themselves.

This week 67 percent of our "experts" see an Eagles victory over their NFC East rivals in large part because of a need to rebound from the debacle in the desert against the Cardinals.

"I think the Eagles are feeling the sting and they are wound up," anchor Tim Lake says. "Despite the ability of Eli Manning it will still be Eagles 24, Giants 17."

Reporter Tim Furlong sees it 21-17 thanks in part to a special guest who will be in the house to have his No. 20 retired.

"Vick FINALLY puts together a decent game and in honor of B-Dawk, the Birds get the win."

The Eagles defense is playing well and I believe they will get pressure on Eli Manning and eke out a 23-21 win over the G-men," photojournalist Rich said. "Also it's Brian Dawkins night and he will have them fired up just like the old days."

Despite the presence of Dawkins, the current Eagles won't be able to stop Manning or the G-Men's pass rush, according to Birds Nest blogger Brian Solomon. "At the end of the day, I just don't trust the Eagles offensive line to protect Michael Vick. 24-23 Giants."

Sales guy Corey also sees a close game with the Giants prevailing 24-20. "Look for the Eagles to have a rebound game, with a more balanced attack and a stronger overall performance. Ultimately though, the Giants will be too much."

As for this blogger, I just see the Eagles having too much on the line this week not to step up to the moment. Mark my words, LeSean "Shady" McCoy will break the 100-yard plateau as Vick throws for two or more TDs as a more balanced Eagles attack takes care of Eli and the G-Men 30-17.

What do you think, who will it be Sunday, the Eagles or Giants?