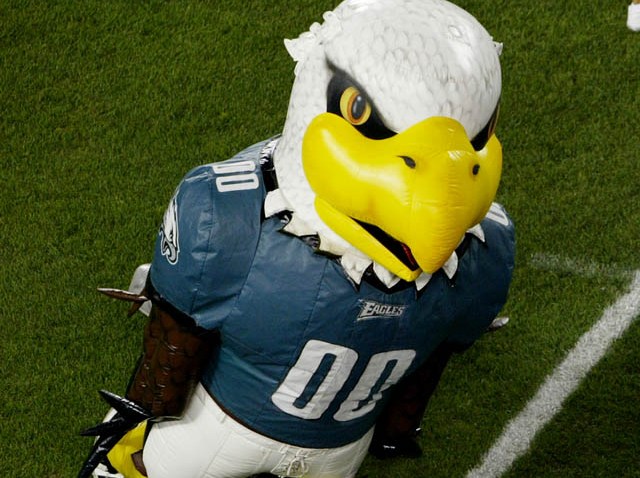 The second annual Eagles Flight Night came and went Thursday without any injuries and without many lasting memories either.
About 31,000 Eagles faithful were on hand to see the glorified practice. They didn't get much of a show on the field but at least they got some thrills like special teamers David Akers, Sav Rocca and Jon Dorenbos throwing mini footballs into the crowd, Swoop firing up the T-shirt cannon, the cheerleaders looked in sync and all the players giving selected fans the jerseys off their backs.
Despite the fanfare, the football was less eventful (even boring at times) than a normal training camp practice at Lehigh. The Birds took it easy on each other -- there were no tackles and plenty of whistled-dead plays. Likely they wanted to avoid a possible repeat performance of Stewart Bradley's season-ending knee injury from last years.
Really the only two standout plays came when third-stringers Mike Kafka and Jared Perry hooked up on a long bomb and when David Akers booted an impressive – though mostly uncontested -- 60-yard field goal.
Besides that most of Flight Night was brutally uneventful. QBs Michael Vick and Kevin Kolb both looked a bit off and normally sure-handed wideouts Chad Hall and Riley Cooper both let a ball or two slip through their hands.
And with stars Jeremy Maclin, DeSean Jackson and Asante Samuel in shorts rather than pads this "exhibition" looked like Eagles light.
At least it gave some of the new Birds a chance to get acquainted with the Eagles fans and Lincoln Financial Field.
"It fun to come out here with everybody's excited, everybody's hollering," said rookie running back Charles Scott as he left the field. "It's a crazy atmosphere."
"I love the energy, I love the fans."
Just imagine how crazy it will be once the game on the field counts for something.
Here are some of the other memorable moments from Flight Night.
Eagles owner Jeffrey Lurie and president Joe Banner showed off their football skills by tossing a few souvenir mini balls into the crowd.
Vick was cheered loudly during pre-practice practice (yes A.I. it's possible to practice).
Defensive tackle Jeff Owens scooped up a fumble on a botched Mike Kafka snap.
Trevard Lindley and Dimitri Patterson looked good breaking up some passes.
That's it -- not much else to say about Flight Night. At least there was a winner -- the event benefited Eagles Youth Partnership.
Oh yeah, and luckily no one got hurt.