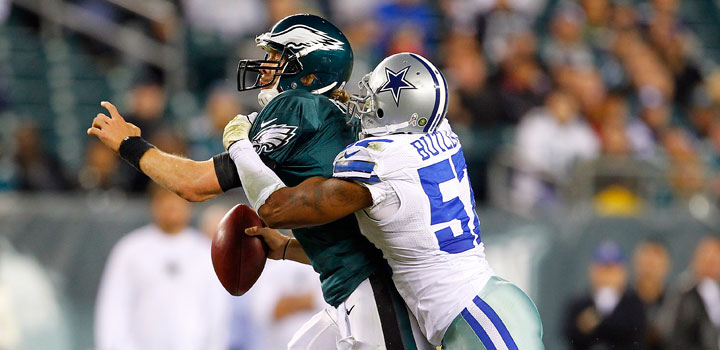 Andy Reid's slow-motion (likely) goodbye tour as Eagles head coach stops in Dallas this week for a Sunday Night Football on NBC(10) showdown with the archrival Cowboys.
When NBC booked this game before the season they probably saw the likelihood of two incredibly popular (big-market) franchises squaring off with a spot atop the NFC East on the line. Instead, they get a 5-6 Boys team facing an even worse 3-8 Eagles team but the network still chose to air this game because of some interesting story lines including Reid's fall from grace.
The matchup might not be sexy on paper but anytime the Birds face the Boys fans surely get riled up.
So which team will reign supreme Sunday night?
None of our football-picking "experts" this week picks the Nick Foles-led Eagles to exact revenge for their Week 10 loss to Dallas.
"Look for the Cowboys to pile on our mess, as they still have high hopes for the season in a must-win game for them if they want to remain in the playoff hunt. Cowboys 27, Eagles 17," predicts sports guy Corey.
When asked if the Eagles could actually pull this one out, news anchor Tim Lake simply replied, "No," while picking the Boys to pick apart the carcass of Reid's Birds in a 28-3 final.
The bigger issues facing the Birds go far beyond Sunday's game.
"I'd like to give you a reason the Eagles will win; but none comes to mind," said photojournalist Rich. "Cutting Jason Babin was a step in the right direction but this team still cannot get to the quarterback or tackle. And the offense is not good enough to overcome those deficiencies. So a loss to the hated Cowboys is in the works as we watch Coach Reid rides off into the sunset with a 30-17 loss."
Birds Nest blogger Ryan Wilson also can't seem to find a way to back the Birds:
"We've stuck with Philly longer than common sense suggests and we're finally abandoning ship. There's no rational reason to think they'll win -- everybody's out on offense, and the defense gets worse by the week -- so like everybody else, I'm going with the Cowboys, 28-10."
Fellow Birds Nest blogger Brian Solomon doesn't think much of Dallas but he still thinks they are better than the Eagles.
"30-13, Cowboys. Dallas isn't better than middling these days, but that's still leaps and bounds ahead of the Eagles."
As for this blogger, I see the Boys' actually decent defense (they are 13th against the run & eighth against the pass) struggling to contain backup running back Bryce Brown. I predict another 100-yard-plus performance for Bryce and I actually predict two Foles' touchdowns but I also predict the Eagles defense being picked apart by Cowboys QB Tony Romo as the Boys rumble to 37-17 win.
Do you agree with us? If not, explain why you think the Eagles can win Sunday and be sure to tune in starting at 7 p.m. for Football Night in America on NBC10.