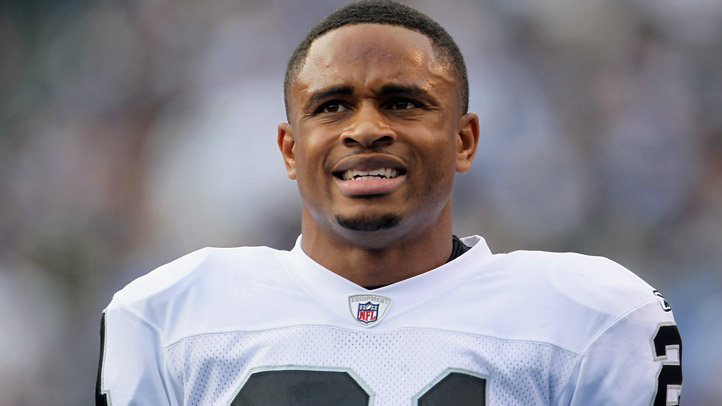 Sorry Rex Ryan, sorry Jerry Jones -- the Eagles beat you badly.
To the elation of Eagles everywhere, the Birds won the Nnamdi Asomugha sweepstakes Friday afternoon.
"He's one of the best -- if not the best -- cornerback in the National Football League," coach Andy Reid said of his new weapon. "He'll be a great addition to our cornerback corps." .
It's like the Cliff Lee signing all over again, but this time the Eagles instead of the Phillies swooped in at the end to grab the most-desired player on the market.
The 30-year-old cornerback signed a five-year deal with the Birds, the team confirmed.
The exact value of the deal wasn't released by the Birds but ESPN.com reports it's worth $60 million with $25 million guaranteed.
The news of the signing was so big that holdout WR DeSean Jackson broke his Twitter silence to congratulate his fellow Cal Bear on becoming a teammate.
"CONGRATS TO MY BIG BRO 21 NNAMBI ASOMUGHA FOR BECOMING A EAGLE!! #CAL"
Asomugha, a 6-foot-2, 210-pounder, formerly of the Oakland Raiders, was the most coveted free-agent on the market. The Eagles reportedly beat out the rival Dallas Cowboys, New York Jets, San Francisco 49ers and others to land the three-time Pro Bowler and four-time All-Pro.
The move gives the Eagles three Pro Bowl CBs with Asante Samuel already in the nest and Dominique Rodgers-Cromartie just arriving in Philly Friday after being traded to the Eagles in the Kevin Kolb deal.
It is unclear if the Eagles will now look to trade one of their CBs or if they would move someone like DRC to safety. The Eagles could try to trade Samuel -- who is excused from Lehigh as he deals with what the Eagles called a family matter -- for interior line help or a linebacker.
General manager Howie Roseman was non-committal about keeping Samuel in the nest.
"We think we have a great situation right now and we are just excited to add Nnamdi and DRC and we'll go from there," Roseman said.
Asomugha was so good in Oakland that teams rarely threw in his direction. The Raiders allowed a league-low 2177 completions in the eight years Asomugha played in the Bay Area. In 122 career games (99 starts), he had 310 tackles, 11 interceptions, 62 passes defensed and two sacks.
His name means "Jesus Lives" in Nigerian, the Eagles say.
The Asomugha move highlights a busy couple days for the Birds as they also landed fellow free-agents DE Jason Babin (five years), WR Johnnie Lee Higgins (one year) and TE Donald Lee (one year).