American Shooter Takes Home 1st Medal in Rio
It's only Day 1, but the medal count officially began Saturday morning as the first medal went to teen American shooter Ginny Thrasher in the Women's 10-meter Air Rifle. Swimming, cycling, judo and fencing will also have medal events on Saturday. [[389371001, C]]
In cycling, the Men's road race took to the streets of Rio and came down a sprint. Belgian cyclist Greg Van Avermaet chased down a breakaway rider and burst to victory.
In shooting, the Men's 10-meter air rifle gold medal went to Vietnam's Xuan Vinh Hoang. In archery, America took the silver as South Korea took gold. In judo, the Men's 60 kg gold went to Russia's Beslan Mudranov while the Women's 48 kg gold went to Argentina's Paula Pareto. And, the best woman with a sword? The epee gold went to Hungary's Emese Szasz.
In the swimming competition American Chase Kalisz picked up silver in the Men's 400m Individual Medley.
And, New Jersey's Kelsi Worrell missed the finals as her march toward gold coming up short after finishing ninth in the semifinals of Women's 100-meter Butterfly.
Sports
In partnership with NBC Sports Philadelphia
[PHI-OLY]How Fast? How Far? Philadelphia-Area Olympians by the Numbers
Carli Lloyd Leads U.S. Women's Soccer Over Tough France Team

After defeating New Zealand 2-0 Wednesday night on a goal from South Jersey's Carli Lloyd. Lloyd once again led her U.S. Women's Soccer Team over France Saturday evening in Rio.
Ranked No. 3 in the world, France was no pushover. The 1-0 victory would be enough to lock in a quarterfinal spot for the Americans. [[389327622, C]]
The game was scoreless at the half until Lloyd put the U.S. Women up with a goal in the 63rd minute that clinched it.
The U.S. team is trying to become the first squad to win Olympic Gold after winning the World Cup, a feat they'll try to accomplish without retired veteran stars Abby Wambach and Lauren Holiday.
U.S. Women's Field Hockey Start With a Win
The U.S. Women's Field Hockey Team entered its opening match against Argentina more confident than ever after some big international finishes over the past few months. [[389352362, C]]
Montgomery County's Katie Bam's team full of nearly a dozen women from the region beat Argentina 2-1 Saturday evening. Bucks County's Katie Reinprecht scored for the United States. Michelle Kasold scored the other goal.
Australia, Great Britain, India and Japan await Team USA in the preliminary rounds, which wrap up Aug. 13, as they look to advance to the medal round.
Villanova's Kyle Lowry, Team USA Begin Quest for Gold With Big Win
Led by an All-Star squad that includes Kevin Durant, Carmelo Anthony, Kyrie Irving and Philadelphia native Kyle Lowry, Team USA faced China in the first game for both squads. Anthony, already in possession of two gold medals and bronze, looks to become the most decorated men's basketball player in U.S. history as he participates in his fourth Olympic Games.
"He's going to be the leader of this team along with (Durant). And to have somebody who, this will be his fourth Olympics, that level of experience - and he's still a great player - and commitment, it's a godsend, really," U.S. coach Mike Krzyzewski said. "He'll be one of key factors in us attempting to win the gold medal." [[389328252, C]]
For Lowry, who attended Cardinal Dougherty High School and Villanova University, it's his first Olympics. He scored seven points -- all on free throws in the 119-62 win.
---
Other Philly-area Olympians competing Saturday included Chester County equestrians Boyd Martin and Phillip Dutton who began the Eventing exercises and Phoenixville, Pennsylvania's Tyler Nase who qualified for the semifinals in the Men's 4.
16-Year-Old American Phenom Loses Table Tennis Debut
Since table tennis became an Olympic sport in 1988 at the Seoul Games, the U.S. has failed to win a medal, as China has dominated the event. Will that change this year? If so, the U.S. will have to wait until the team competition next week.
Kanak Jha, 16, of Milpitas, Calif. is the first U.S athlete born in the 2000s to qualify for the Rio Olympics.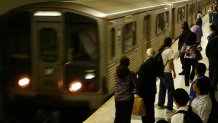 Jha fell to Iranian Nima Alamian 4 games to 1 in the final preliminary match at the Riocentro in men's table tennis.

Jha, the youngest athlete competing at these Olympics, fought valiantly against Alamian, who is seven years Jha's senior and sports infinitely more facial hair. After losing the first game 11-3, Jha rallied back to win game 2 11-7. After Alamian edged games 3 and 4, Jha had a chance to take game 5. Up 9-8, Jha faltered twice and eventually lost the game 12-10.
Jha will have another chance to compete in these Olympics with the men's table tennis team. Team USA faces the hosts Brazil on Friday, August 12.
And if Jha does bring home a medal, he'll have to quickly hand it over to his mother Karuna, who first started playing against her son when his head could barely reach the table at five years of age.
"I started playing with him because he was too young," she said. "His head was below the table and nobody wanted to play with him."
Copyright AP - Associated Press