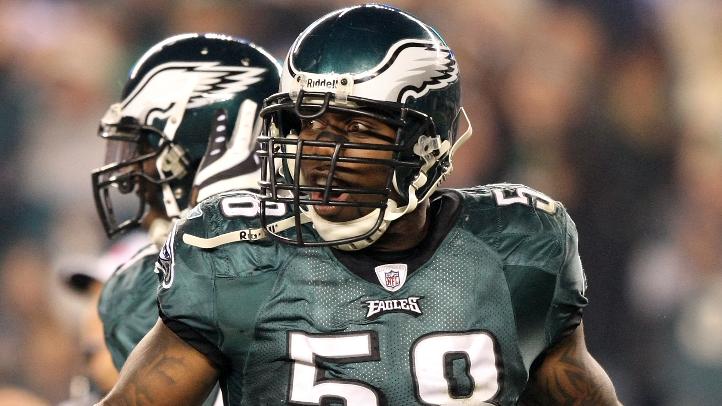 If you thought Ronnie Brown making like Garo Yepremian at the goal line and Andy Reid's goal-line play calling were rock bottom for the Eagles this season, well then you sir don't know squat about nadirs, because the Eagles just lost three of their best players in the blink of an eye. DT Antonio Dixon tore his triceps in the Niners game. He's done for the year. And it gets worse from there, according to the AC Press.
In addition, defensive end Trent Cole (strained calf) and tackle Jason Peters (strained hamstring) are expected to be sidelined for at least two games, starting with next week's trip to Buffalo.
Jay Glazer is reporting that Cole will likely be out for THREE games. And that's not good, because the next three games look like this: at Buffalo, at Washington, and then home for the Cowboys (someone has to not choke in that game, yes?). That's two 3-1 teams followed by a hated division rival. You could be looking at a 1-5 record going into the bye week, at which point the city may kidnap the entire team and throw it off an embankment. And the Eagles still have the likes of New England left on the schedule. THEY MAY NEVER WIN AGAIN!

Of course, the Eagles have survived losing stretches like this before and managed to thrive. Say what you will about Andy Reid (and you ought to), one of the reasons he's managed to stick around all these years is because he's capable of keeping a level head in moments like this. He doesn't panic. He just goes out and botches the game the same way he would if his team were 3-1. That's consistency you can count on! The problem is that the injuries to Dixon, Cole, and Peters exacerbate the reasons why this team has lost three straight games. This team can't protect the passer or defend the run, and now they just lost three of their best linemen, which means those problems are going to get worse. Michael Vick, who has already been injured 400 times this season, will be running for his life the next two weeks. Do you count on him surviving? I don't.

And the idea of 1-3 merely being a "slow start" for the Eagles is now wishful thinking. This was a flawed team, and now it's a depleted one going into what must now be considered the most important stretch of the season. Michael Vick and Andy Reid are going to have to lift this team out of a funk without support from Dixon, Peters, and Cole. If they can't, you can write this team off.