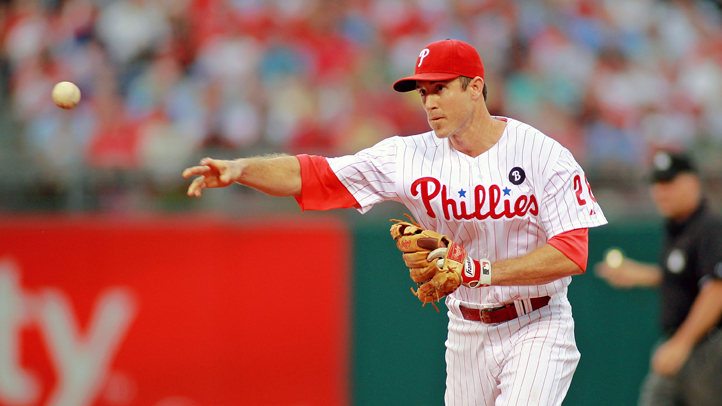 I recently wrote about Charlie Manuel's concerns heading into the season. My two main points being:
1. How they were borne partially of the high expectations that come with managing the Phillies to five-straight division titles.
2. The apprehension that comes with fielding a roster full of aging, banged-up players, while the rest of the division seems stronger, faster and younger.
Now, Charlie's worry seems even more justified, knowing that Chase Utley isn't as healthy as the team let on, and that he is doubtful for Opening Day. Philled In's David Hale has the details, but the nuts and bolts of it is this: Chase's rehab has stalled, and he left the team to see a specialist.
It's obvious, but this news has been a long-time coming, since we haven't seen Chase in an actual game (spring training or otherwise) since last October. At first, the decision to hold him back during spring training was a smart one. It's only March, and World Series are not won in the first quarter of the year.
But now, the writing is on the wall. His injury is not getting any better, and it appears to be getting worse. His condition, which was limited to his right knee, is present in both knees. And the kicker? Utley's previously unaffected left knee appears to be bothering him worse than his right knee, according to reports.
This is what the future holds for Utley, and from here on out, it's about management, and how the Phillies can balance keeping him on the field while simultaneously trying to extend his playing days. It's a nearly impossible proposition -- he is only valuable when he is healthy -- but he can't be healthy if he is on the field too much, for the wear and tear will sap all of his value.
In short, the Phillies need to prepare for life without Chase Utley. Be it for April, May or beyond.
Barring some miracle, or a knee specialist that can reverse the effects of age and genetics that have predisposed Chase arthritic joints, we might very well be in the last act of Utley's career.