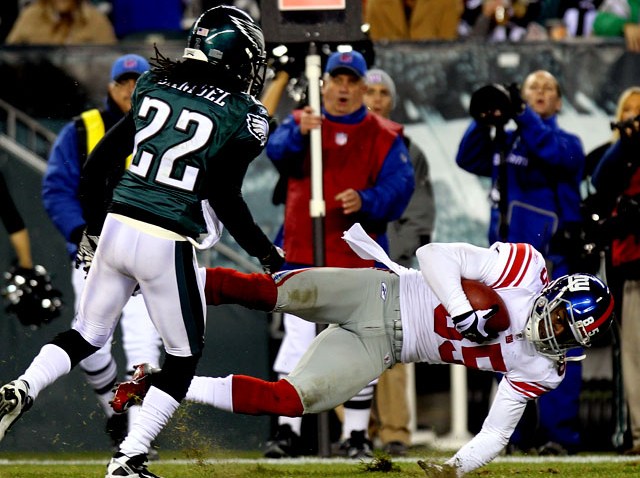 I know $40,000 looks harsh, but the rule is the rule.
Eagles Coach Andy Reid actually talked the NFL into reducing Asante Samuel's fine from $50,000 for Sunday's "illegal" hit on Giants WR Derek Hagan.
I fired off this email to the NFL:
Can you explain to why the fine to Asante Samuel when he led with his shoulder even know helmets hit. And what the difference is with the Eagles Kurt Coleman hit a few weeks ago.
And here's the NFL's answer from Randall Liu:
Howard:
Rule 12, Section 2, Article 8(g) states that it is unnecessary roughness "if the initial force of the contact by a defender's helmet (including facemask), forearm, or shoulder is to the head or neck area of a defenseless player.

The statement given for the Kurt Coleman play is below:

In the second quarter of Sunday's game between the Eagles and Colts, the Eagles were penalized for unnecessary roughness for a hit on Colts wide receiver Austin Collie.

The contact on Collie was initiated by Eagles safety Quintin Mikell (No. 27), who delivered a legal hit with his shoulder to the chest area of Collie. That contact propelled Collie toward Eagles safety Kurt Coleman (No. 42), causing Coleman to make helmet-to-helmet contact with Collie.

Because the helmet-to-helmet contact was a result of Collie being driven toward Coleman by Mikell's legal hit, there will be no fine for this action.
I do not agree with what the NFL is doing to the game, but as long as they don't make it touch football I think we will all have to get use to it.