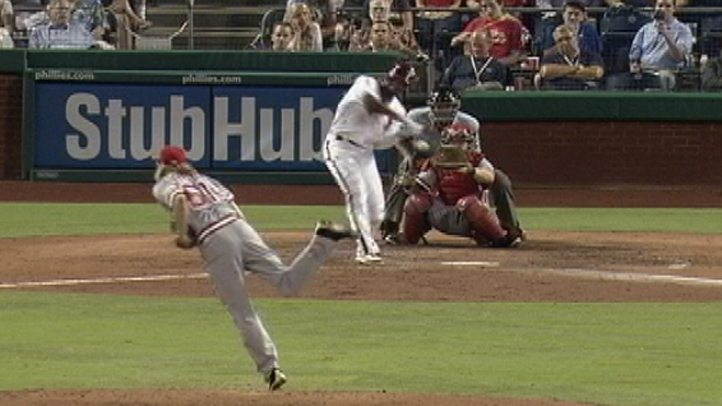 Bronson Arroyo and the Cincinnati Reds remained red hot.

Arroyo allowed three hits in eight-plus innings, and Jay Bruce homered to lead Cincinnati to a 3-2 victory over the Philadelphia Phillies on Wednesday night.

It was the 10th win in 13 games for the Reds, who moved a season-high 27 games over .500

Arroyo (10-7), who gave up both runs while striking out four and walking none, retired the first 14 batters before Domonic Brown's two-out homer in the fifth. Brown doubled off the wall in right-center with one out in the eighth and pinch-hitter Kevin Fransden reached on an infield single leading off the ninth for the other hits off Arroyo.

``I had good stuff,'' Arroyo said. ``I was hitting my spots on both sides of the plate. It's one of the best games I've thrown.''

Other than that, the Phillies didn't have anything close to a hit off Arroyo, who was 0-6 with a 9.46 ERA in his last seven regular-season starts against the Phillies. But Arroyo has been hot lately, improving to 6-1 with a 3.50 ERA in his last seven starts.

``He pitched a great game,'' Cincinnati manager Dusty Baker said. ``Low pitch count, great location, used all his pitches and the defense played great behind him. No walks was the key. You can't walk people in this ballpark.''

Aroldis Chapman relieved Arroyo after Fransden's hit. Fransden went to second on Chapman's wild pitch and scored on pinch-hitter Ty Wigginton's one-out single to right. Wigginton's broken bat caromed into the back of Chapman's left leg and the lefty limped around but remained in the game after a visit from the trainer. Chapman then got Chase Utley to fly out and Ryan Howard to line out sharply to left for his 31st save in 35 chances.

Run-scoring singles by Drew Stubbs and Ryan Ludwick in the fifth inning off Philadelphia starter Vance Worley staked Cincinnati to a 2-0 lead.

Worley (6-9) allowed two runs and eight hits in six innings. It was Worley's third straight loss but the longest outing in four starts for the righty, who has one win in his last seven starts.

``Things just haven't gone our way,'' said Worley, who was noticeably frustrated on the mound. ``If it can go wrong for us, it goes wrong. I want to win; nobody likes losing. I need to do a better job of hiding (his frustration), but it's been a long season.''

The five-time NL East defending champion Phillies dropped 10 games under .500.


Copyright AP - Associated Press