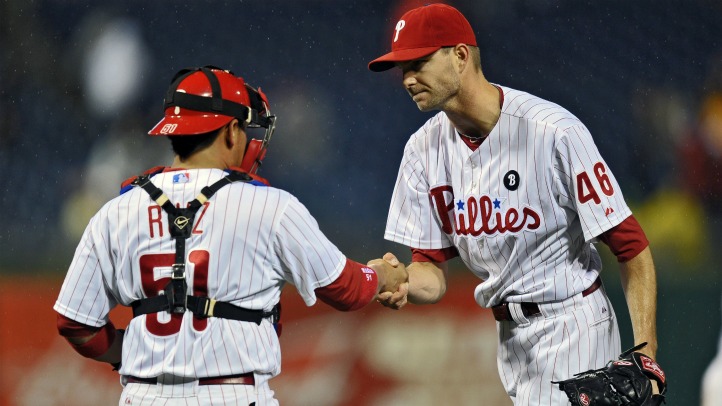 All this week Philthy Stuff will be looking back on some of the key moments in one of the best Phillies regular seasons ever.
---
When the 2011 season was getting under way, plenty of people were prediciting glory for the Phillies.
The starting rotation was the biggest reason behind the bullishness, but you also heard plenty of talk about the depth of the lineup and the experience of a team that's made playoff visits a rite of October in Philadelphia. The one thing you never heard was someone touting the bullpen as a reason for optimism.
There was good reason for that. The Phillies didn't have a closer.
Brad Lidge was hurt and he'd abused the faithful too many times to be seen as anything but a disaster waiting to happen. Jose Contreras was intriguing but prone to injuries with heavy use, J.C. Romero couldn't get a right-handed hitting grandmother out and the fact that Danys Baez was once trusted with closing games was harder to understand than the ending of Lost.
And then there was Ryan Madson. Everybody loved Madson in the seventh and eighth inning. He was a setup man of great acclaim. But no one, including Charlie Manuel, seemed the least bit interested in letting Madson have the job of closing games. There were definitely some struggles in his rare appearances in the role in 2009 and 2010, but no one was willing to roll the dice to find out what happened over the long term.
At least, not until the fates intervened. Contreras began the year as the closer and picked up five saves in April while Madson was lights out in front of him. But, just as you would have predicted, Contreras' arm couldn't deal with the workload and he was fried three weeks into the season. With the other options so undesirable that the Phillies were phasing them out of the bullpen entirely, Manuel had no choice to go back to Madson.
It turned out to be the smartest thing he did all year. Madson blew just two saves all season, completely erasing any memories of past ninth inning struggles. He gave up 15 earned runs after taking over the job, but six of those came in one nightmarish outing which means that he had a 1.53 ERA in all of his other outings. He averaged just under a strikeout an inning, walked 14 batters and didn't give up a run in his final 19.1 innings.
Madson's emergence solved the one problem that threatened to undo the Phillies' dream season. After two years of sitting on pins and needles every time the ninth rolled around, everyone can finally feel confident when the Phillies take a lead to the last inning.
Copyright FREEL - NBC Local Media