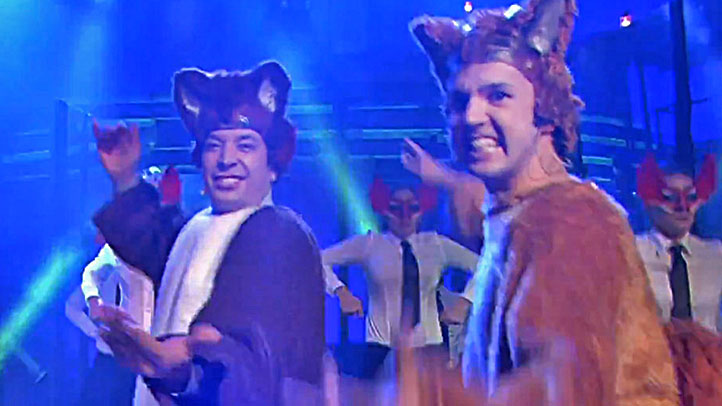 Jimmy Fallon had some foxy performers on "Late Night" Wednesday night.

The host welcomed Norwegian comedy duo Ylvis to the stage to perform their hit "The Fox (What Does the Fox Say?)" with the help of The Roots.

Ylvis, which is made up of brothers Bård and Vegard Ylvisåker, rose to internet super-stardom in September when they released a YouTube video inspiring people worldwide to wonder what sound a fox makes.

In both the original viral video and last night's performance, the two dress up like foxes, sing, and dance along with a variety of other animals like a horse, an elephant and a seal.

Fallon and the Roots even got in on the fun for the performance and donned some fox costumes of their own as they joined the brothers on stage.

Though the pair has been a noted comedy act in Norway since 2000, it was "The Fox" that brought them international attention. So far, "The Fox (What Does the Fox Say?)" has over 100 million views on YouTube.

The brothers will bring their fox suits to Rockefeller Plaza Friday when they perform their hit on "Today."