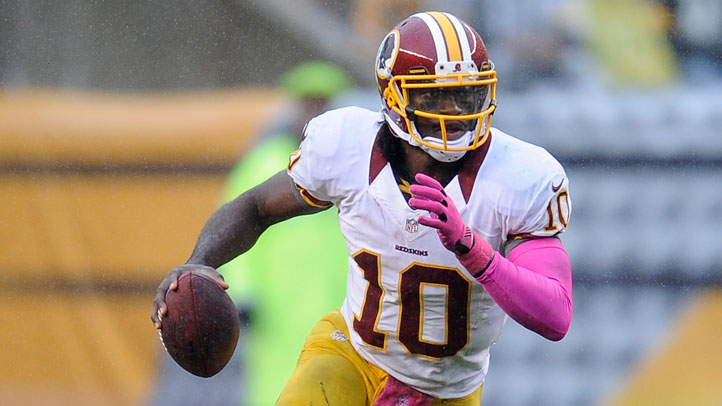 Game time: Sunday, Dec. 23, 1 p.m. ET, Lincoln Financial Field
Network: FOX
Weather: mid-40s, sunny
Records: Redskins (8-6) at Eagles (4-10)

1. Is Robert Griffin III going to play?
It sure looks like it. For the second straight day, Mike Shanahan said as much following practice. Griffin has been a full participant both Wednesday and Thursday, and barring a setback, he'll suit up against the Eagles in Washington's biggest game of the season.
The thing is, Kirk Cousins has been so consistent in spot duty that the Redskins have proven that they can win even when RGIII's on the sidelines. Think about that for a second -- this is the same outfit that hasn't had one legit quarterback since Mark Rypien 20 years ago.

2. Does RGIII need to curb his style of play?
U.S. & World
Stories that affect your life across the U.S. and around the world.
Uh, no. We'll hear some variation of this conversation for as long as Griffin continues to make plays with his feet, but people said the same thing about John Elway and Ben Roethlisberger, too.
(Yes, we know, Michael Vick probably deserves a mention, particularly since he can't stay healthy given the way he plays, but we'd just point out that RGIII is already a better player than Vick and seems to be smarter, with and without the ball -- from reading defenses to knowing when to run.)

"The day I think about throwing the ball away at the beginning of a play, I should stop playing," Griffin said, via the Washington Post. "It's just something that happens. I've thrown the ball away this year, but it's not something you take into a game plan. 'All right. I'm going to go 1-2 and throw it out of bounds.' I just think that's a faulty approach to the game, but I get where everyone is coming from. I continue to protect myself. This latest injury could have happened to anybody. I was getting down. It is what it is and I have to move on from that."

3. Can the 'Skins overcome injuries at other positions?
In a word: yes. Look, this team overcame the loss of Brian Orakpo and Adam Carriker earlier in the season, so the fact that right tackle Tyler Polumbus didn't practice (concussion) is hardly reason for concern, especially given that RGIII's set to return. Center Will Montgomery (sprained MCL) took part in drills, and linebacker London Fletcher and Lorenzo Alexander both returned to practice.
To borrow a Shanahan-ism, "barring a setback," there's nothing to see here.

4. Can Washington's D slow up the Eagles?
The thing is, despite Philly's 4-10 record, they have some explosive players. Running back LeSean McCoy returns to the lineup, and his replacement Bryce Brown has been very good when he's not fumbling. Rookie quarterback Nick Foles has been a pleasant surprise, although he's still learning on the job.
The 'Skins' defense, meanwhile, has done a 180 from earlier in the year, so much so that they have a lot to do with the team's five-game winning streak.

5. Is this a dreaded trap game?
Yes, we know, "trap game" is an urban legend at best, end-of-days propaganda at worst. Whether there's scientific evidence to support it or not, the fact remains: If Washington doesn't show up against the four-win Eagles, they'll lose.
For the past month, the Redskins have played inspired, and you'd expect that to remain the case in the biggest game of the last five years for a team that last went to the playoffs in the 2007 season.
Despite the week off, we expect RGIII play well. Same holds for the defense, and Washington should head into Week 17 with just one game between them and the postseason.
ALSO SEE: