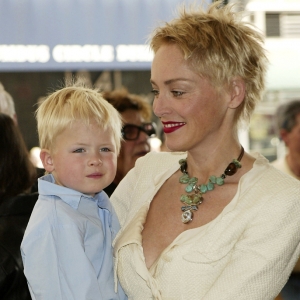 After court papers were released, claiming Sharon Stone wanted to give Botox to her 8-year-old son, Roan, an attorney for the actress is firing back.
"This week it was reported in connection with Sharon Stone's custody dispute that she wanted to have her young 8 year-old son undergo Botox treatment at this time for his feet. Sharon Stone never made this statement. It is a complete fabrication," her attorney, Martin Singer, told Access Hollywood.
[ VIEW THE PHOTOS: Celebrity Parents Gone Nuts ]
U.S. & World
Stories that affect your life across the U.S. and around the world.
Earlier this week, a San Francisco Superior Court judge issued a tentative denial of Stone's request to modify the custody agreement for her adopted son, Roan, who she shares with ex-husband Phil Bronstein.
Stone had filed the papers, asking the court to move Roan's primary residence from Marin County in Northern California where his father lives, to the actress' home in Los Angeles.
[ VIEW THE PHOTOS: Top Ten Most Memorable Oscar Gowns ]
In denying the actress' request to modify the current agreement (which dictates shared custody), the judge ruled Bronstein's home provided a "more supportive environment for Roan during the school year."
In one passage of the court documents, Bronstein claimed that Stone "suggested that Roan have Botox injections in his feet to resolve a problem he had with foot odor."
"Although the court denied Sharon's request to modify the custody arrangement already in place, Sharon will maintain the same custody arrangement and visitation that she's had with her child for the past several years and still has joint legal and physical custody of her son," Singer added in his statement to Access. "Sharon loves her son Roan and only wants the best for him."
Related Content from AccessHollywood.com:
VIEW THE PHOTOS: Week's Best Star Sightings: August 23-29, 2008
PLAY IT NOW: Sharon Stone's Botox Blunder?
PLAY IT NOW: Sharon Gets Back To 'Basic'

MORE ACCESS ON THESE TOPICS: Sharon Stone - Courts - Celebrities

Copyright NBCAH - Access Hollywood