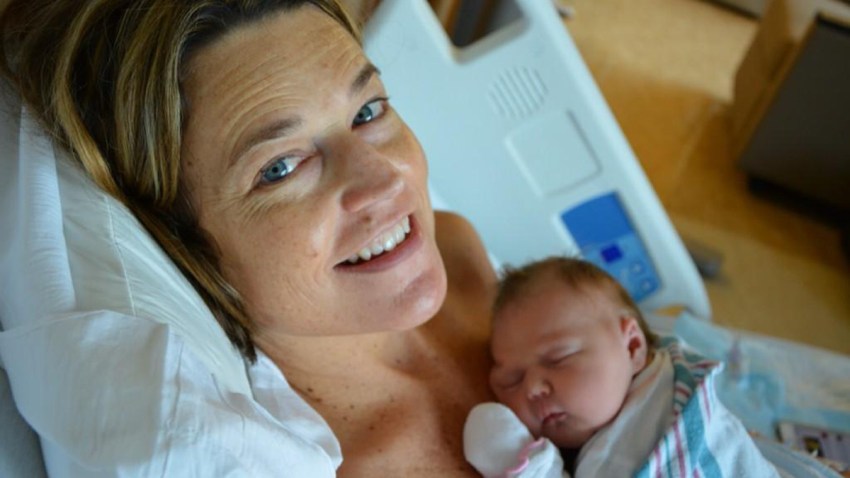 It's a girl!
NBC's Savannah Guthrie and husband Mike Feldman welcomed daughter Vale Guthrie Feldman early Wednesday, the "Today" show revealed.
Vale tipped the scales at 8 pounds, 5 ounces, the "Today" team said on Thursday's broadcast. She measured 19.5 inches long.
U.S. & World
Stories that affect your life across the U.S. and around the world.
"I think we found heaven in this little hospital room in New York City," Guthrie said.
She described Vale, her first child, as having "blue eyes, a little bit of blondish hair and the chubbiest cheeks you've ever seen," Today.com also reported.
The "Today" co-anchor had hinted on Twitter that her little one had arrived about a half hour before the official reveal.
My 3am wake up call sounds a lot different now. Sweeter... — Savannah Guthrie (@SavannahGuthrie) August 14, 2014
Guthrie went on maternity leave earlier this week and had chronicled her pregnancy for Today.com.
Guthrie announced in March that she had wed Feldman and the pair were expecting their first baby in the summer.
The couple broke the pregnancy news to their wedding guests, which included "Today's" Matt Lauer, Al Roker, Hoda Kotb and Willie Geist, as well as Jon and Dorothea Bon Jovi.
"Our hearts (and twitter feeds) are overflowing with joy," Feldman tweeted at the time.
Feldman is a founding partner and managing director of communications firm The Glover Park Group, and was a former senior adviser and traveling chief of staff to Vice President Al Gore. He proposed to Guthrie in Turks and Caicos back in May, according to E! News.
Check out more photos below:
Every new parent must want to shout their happy news to the world. So lucky we got to do it on @TODAYshow! We are bursting with joy. #Vale — Savannah Guthrie (@SavannahGuthrie) August 14, 2014
Vale, on the other hand, slept through the whole thing pic.twitter.com/yXvDR9Wbjh — Savannah Guthrie (@SavannahGuthrie) August 14, 2014
"I think we found heaven in this little hospital room in NYC." http://t.co/lsqXd6oqAV pic.twitter.com/44fI1HjA5f — TODAY (@TODAYshow) August 14, 2014
Those cheeks! #CongratsSavannah pic.twitter.com/NtsyZiaPYW — TODAY (@TODAYshow) August 14, 2014
It's a girl! Meet Vale Guthrie Feldman! http://t.co/lsqXd6oqAV #CongratsSavannah pic.twitter.com/eo9DjuuX79 — TODAY (@TODAYshow) August 14, 2014
We have a baby! #congratsSavannah pic.twitter.com/3QWBq64Geo — TODAY (@TODAYshow) August 14, 2014
Quite the un-Vale-ing @SavannahGuthrie and @feldmike (Sorry. Couldn't resist the pun. Warn her about my bad jokes) — Chuck Todd (@chucktodd) August 14, 2014