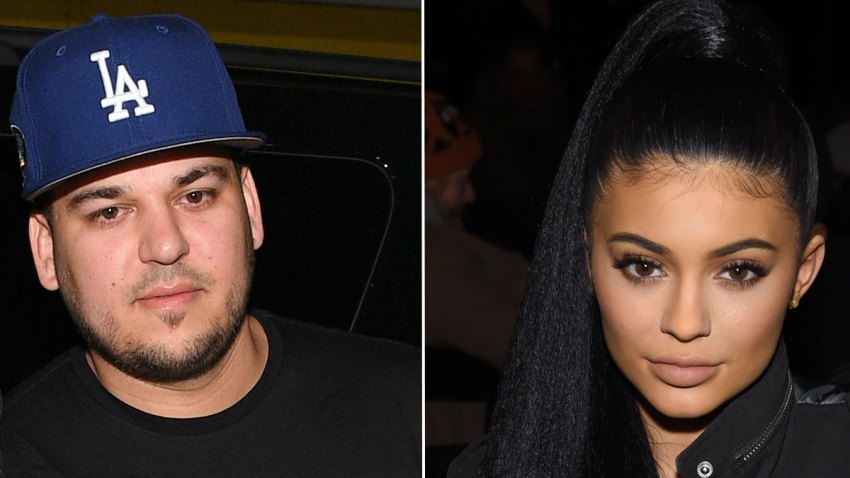 So much for brotherly love.
Rob Kardashian took aim at his youngest sister, Kylie Jenner, Monday night when he tweeted her real cell phone number to his 6.65 million followers. Apparently, there's some behind-the-scenes beef about an upcoming baby shower.
"Didn't invite the Mother of my child to a baby shower you all were trying to throw for me ? You all must have lost your damn minds," he wrote after sharing Jenner's digits and clarifying his account had not been hacked.
While we know his relationship with Kylie--who has been dating Blac Chyna's ex Tyga for years--has not been so smooth at times, what could have suddenly sparked such a brawl? A source tells E! News the drama boils down to a baby shower planned for Kardashian that Blac Chyna was not invited to.
Biggest Celebrity Twitter Feuds
U.S. & World
Stories that affect your life across the U.S. and around the world.
In a potential moment of foreshadowing, Blac Chyna confirmed on Snapchat earlier Monday that her baby shower is currently planned for Sunday. As a source told E! News the event is being held by her friends and has been "in the works for a while now."
"Kendall [Jenner] and Kylie were invited and had RSVP'd to attend," the source added. However, a second source tells E! News that Kendall will be in Paris until Oct. 6.
As for a second "DILF" shower planned in Kardashian's honor, the source says Blac Chyna was going to go in his place and that's where the bickering began. "Rob couldn't attend, so Chyna was going to attend and Kim [Kardashian] said if Rob didn't go, then Chyna couldn't go. It sounds like that's what caused the argument."
While we wait to see who will stir the pot next, Jenner has privately reacted to the antics--by changing her phone number.
Copyright E! Online