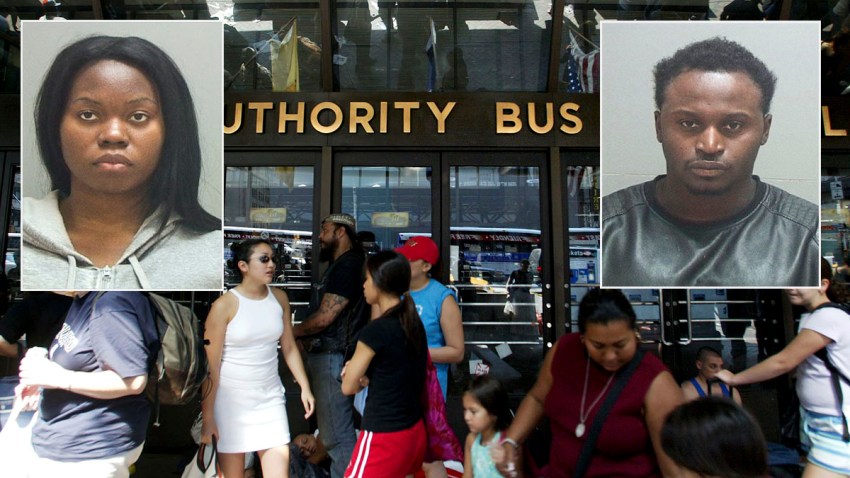 Two people were arrested on human trafficking charges in Utah after a woman told police she was snatched off the street in midtown Manhattan, taken across the country and forced into prostitution, police say.
Police found the 23-year-old woman in a parking lot in Salt Lake City after she called 911 with a cellphone, according to Salt Lake City Police spokeswoman Robin Heiden. She had a scar and a swollen eye when officials found her.
The woman told police that she was abducted from the Port Authority Bus Terminal several weeks ago, and that she was hit in the face three times and knocked out by her captors.
U.S. & World
Stories that affect your life across the U.S. and around the world.
From New York, the woman was taken to Chicago, where she was sexually assaulted before being taken to Grand Junction, Colo., then to Denver and Salt Lake City. The woman alleged that she was forced into prostitution along the way, Heiden said. She escaped from her alleged captors on Sunday.
She was taken to a hospital in Utah, where she was treated for scrapes and bruises. She has since been released.

On Monday, authorities arrested Jean Joseph, 26, and Tara Pinnock, 24, in Salt Lake City.
Joseph was booked into Salt Lake County Jail on suspicion of rape, human trafficking, aggravated assault and kidnapping, Heiden said. Pinnock was booked on suspicion of human trafficking.
They have yet to be formally charged, and Salt Lake County Sheriff's Office spokeswoman Cammie Skogg didn't know if the suspects had lawyers.
In February, Pinnock was charged with prostitution in Stamford, Conn., and held on bail after police there ramped up efforts against human trafficking and prostitution during the Super Bowl, said Connecticut State Police Lt. Paul Vance. He said he did not know further details of the case.
It was the second time in recent months that a woman has said she escaped a captor in Salt Lake City after being abducted on the East Coast, Heiden said.
"It could be happening more than we think it is," she said.
"In some instances, women could go to jail on prostitution charges, Heiden added, "but we may not even know she has this guy making her do it."
Copyright AP - Associated Press