What to Know
Uniformed, off-duty officer called police, saying she shot a man after she entered a neighbor's apartment by mistake.
Botham Shem Jean, 26, transported to a hospital where he died.
Officer arrested Sunday after surrendering to authorities in Kaufman County; she's currently free on bond.
According to an arrest warrant affidavit obtained by NBC 5 Monday afternoon, Amber Guyger gave verbal commands to a person inside a darkened apartment she believed to be her own before fatally shooting him.
Details of the incident outlined in the arrest warrant say Guyger arrived home from her shift with the Dallas Police Department and parked her car on the fourth floor parking garage. The parking garage level corresponds to the level the resident lives on; Guyger lives on the third floor, according to the affidavit.
Guyger then walked into the building and to what she believed was her apartment door where she inserted her key. The door, the affidavit said, was partially ajar and fully opened under the force of the key insertion.
The door being opened alerted the resident, 26-year-old Botham Jean, who Guyger then saw as a silhouette moving through the darkened apartment.
According to the affidavit, Guyger, believing her apartment was being robbed, drew her firearm and "gave verbal commands that were ignored" by Jean.
U.S. & World
Stories that affect your life across the U.S. and around the world.
She then fired her gun twice. According to the Dallas County Medical Examiner's Office, Jean suffered gunshot wounds to the chest and abdomen.
Guyger then entered the apartment and called 911 while providing first aid to Jean.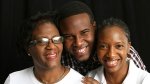 According to the affidavit, while on the phone with 911, Guyger turned on the lights inside the apartment and only then realized she was not in her own home.
When dispatchers asked her for her location, Guyger went into the hallway to check the address and confirmed she was at apartment 1478; Guyger's residence is one floor below, directly beneath Jean's residence.
Dallas Fire-Rescue EMS transported Jean to Baylor Medical Center in Dallas where he later died.
A Dallas Police Department search warrant carried out Friday also offered a narrative with some different details.
It stated that Guyger encountered Jean "at the door" and that a neighbor allegedly heard an exchange of words prior to hearing gunfire.
Lee Merritt, who is representing Jean's family in the case, said the account in the arrest warrant affidavit is "completely inconsistent with the evidence" they presented to the Dallas County District Attorney's office Sunday. That evidence is a witness who did not see the shooting and a video that Merritt has not yet shared with the media.
Before releasing the officer's name Friday, Dallas Chief of Police U. Renee Hall said the officer was expected to be charged with manslaughter in the shooting. Records obtained Monday show an search warrant was signed by State District Judge Brandon Birmingham on Friday with a Dallas Police Detective as the investigator. But Hall turned the investigation over to the Texas Rangers. She said they asked for a delay in making an arrest.
Guyger was not identified as the officer involved in the shooting until Saturday and the Texas Rangers' manslaughter warrant was not signed until Sunday. Guyger surrendered to law enforcement at the Kaufman County Sheriff's Department Sunday night and bonded out of jail about two hours later.
Dallas County District Attorney Faith Johnson said Monday that the case will be presented to a grand jury that will ultimately decide the charge Guyger will face in court. Johnson said that could end up being a murder charge.
"Just because she turned herself in in Kaufman County, that was between her and the Texas Rangers. This case is a Dallas County case. The Dallas County District attorney's office is doing a thorough investigation. You can trust that," Johnson said.
Dallas Mayor Mike Rawlings attended a press conference with Johnson Monday and defended the way the case has been handled.
"We will get transparency and we will get all the information out," Rawlings said. "Justice is a relay race, it is not a 40-yard dash. And we have some great baton passes that have taken place in the last few days."
Criminal defense attorney Heath Harris is a former chief assistant district attorney who has handled public integrity cases in the past.
"If someone else at an apartment complex does this tonight, they're going to be taken into custody," Harris said. "My clients would love to have the opportunity to wait a few days."
Dallas City Councilmember Philip Kingston made a social media post over the weekend and criticizing the way the case was initially handled.
"The eyes of the world were on Dallas because it looked like we were mishandling this," Kingston said. "It looked like she was being given special treatment and the good part is, as of yesterday, it doesn't look like that anymore."
Both Kingston and Harris said they were pleased to hear Johnson's promise of a thorough investigation and a Grand Jury review. But Harris said a grand jury could also decide Guyger committed no crime.
A funeral service for Jean will be held Thursday at noon at the Greenville Avenue Church of Christ in Richardson. A viewing will be held prior to the service from 10 a.m. to noon.
Arrest Warrant
Search Warrant
NBC 5's Jack Highberger, Maria Guerrero, Scott Friedman and Jack Douglas contributed to this report.
Copyright AP - Associated Press