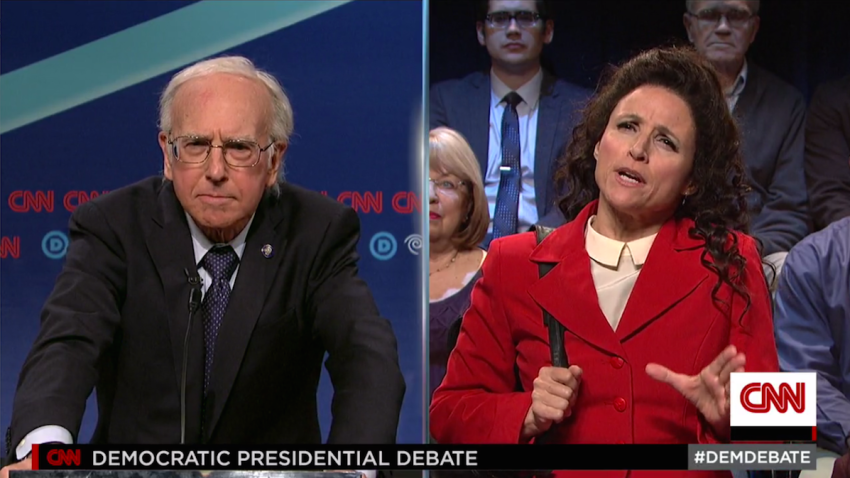 With the New York primary fast approaching, and the state's 247 pledged delegates up for grabs, tensions have escalated bewteen presidential candidates Hillary Clinton and Bernie Sanders — evident when the Democratic rivals faced-off on the debate stage in Brooklyn, New York, Thursday night.
Leave it to "Saturday Night Live," which is known for its political sketches, to mock the CNN event dubbed the "Brooklyn Brawl."
Comedian Larry David made a welcomed return to Studio 8 to reprise his role as the Vermont senator alongside Kate McKinnon's Clinton and Beck Bennett as CNN's Wolf Blitzer. [[238904721, C]]
U.S. & World
Stories that affect your life across the U.S. and around the world.
"I am Bernie Sanders," David said. "I'm a voice for regular people. I'm not fancy. I'm not the elite. I put on my pants just like all of you. I sit on the edge of the bed and Jane pulls them up for me."
The real-life testy exchange between the former secretary of state and Sanders translated into a slap fight over the minimum wage.
"You feel that burn?" McKinnon asked David while holding him in a headlock and giving him a "noogie."
The faux-candidates also took questions from average New Yorkers, like "Seinfeld's" Elaine Benes, reprised by "SNL" host Julia Louis-Dreyfus, and Rachel Green from "Friends," played by cast member Vanessa Bayer.
"You've been pretty vague in the past. But how exactly are you going break up the big banks?" Louis-Dreyfus' Benes pressed Sanders.
"You mean a Big Bank Breakup?" Sanders replied.
"Yeah, a Big Bank Breakup" Benes said.
Benes grilled Sanders over his vague answers in the hilarious Seinfeld-esque exchange, and "yada, yada, yada," then took him to task about raising taxes on the rich.
"Senator Sanders, you believe the super-rich should pay more in taxes?" she asked. "But wouldn't that be bad for actors who made a lot of money on a certain very successful sitcom? And in turn, even worse for the person who created that sitcom?"
"Yeah, yeah, yeah, yeah, you should vote for her," David's Sanders admitted pointing to McKinnon's Clinton.
The "Veep" star, who was hosting for the third time, showed her dramatic range and comedic timing as a bored housewife named Mrs. Handler having an affair with a much younger man in the sketch "Pool Boy." [[375984181, C]]
Mrs. Handlers passionate break-up speech is totally lost on the 20-something-year-old Chad, played by cast member Pete Davidson, who is more interested in the dead squirrel he fishes out of the filter.
As Handler says her final goodbyes to one fling, another one quickly ignites after seeing Toby (Nick Jonas) the new lawn guy cutting her grass.
Playing a black-and-white movie star who hid her lines all over the set — and even on her co-star's chest — Louis-Dreyfus got to indulge her always-fun flair for physical comedy in the "Cinema Classics" sketch. [[375984241, C]]
Musical guest Nick Jonas performed his recently released single "Champagne Problems" and dusted with Tove Lo on "Close."