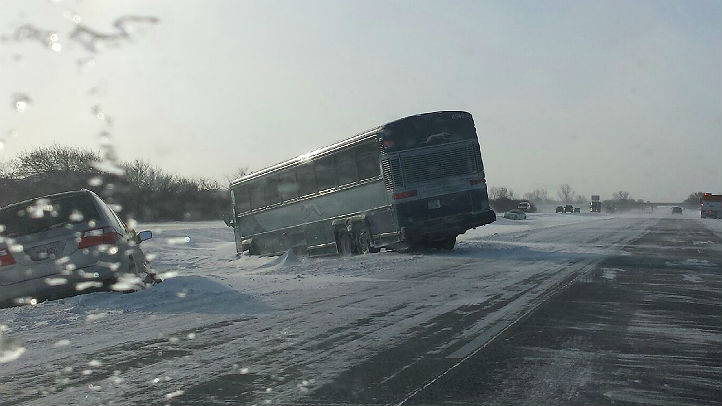 "Treacherous" winds blew a bus off the highway Monday morning in an Illinois town, a Greyhound spokeswoman confirmed.
None of the 22 passengers were injured when bus No. 6549 slid off the road around 12:30 a.m. on Interstate 57 as it traveled through the village of Manteno on its way to Memphis from Chicago, Lanesha Gipson said.

The Manteno Fire Department said the bus was traveling south when it was overcome by high winds at mile marker 319.

A photo sent to NBC 5 from Lynette Reynolds showed the bus in a ditch alongside other vehicles that also apparently lost control in the wind. A semi-tractor trailer was also seen stalled on the side of the road.

Gipson said the bus was scheduled to arrive in Memphis at 6:40 a.m. Passengers were taken to a nearby hotel to wait out the inclement weather and unsafe road conditions. The bus had to be towed.

"Once the roads are deemed safe to travel, we will get all passengers to their destinations as quickly as possible," Gipson said.
The National Weather Service warned gusty winds and subzero temperatures will result in dangerous wind chill values of between -25 and -35 degrees on Monday and between -30 and -45 degrees overnight.

U.S. & World
Stories that affect your life across the U.S. and around the world.