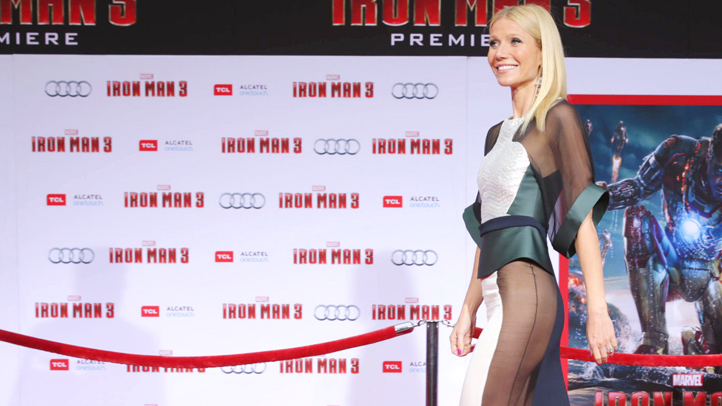 Leading lady Gwyneth Paltrow proved she's more than just the world's "Most Beautiful Woman." She's also one of its most fashionably daring.

After being crowned People magazine's most beautiful, the actress showed up to the "Iron Man 3" premiere wearing a business-in-the-front, sexy-on-the-side number by Antonio Berardi.

From the looks of it, the 40-year-old mother to two ditched her undergarments to rock the daring dark teal, black and white ensemble.

"It's very see-through" Paltrow acknowledged to E! News of the sheer number that left little to the imagination.
"I just thought it was really beautiful and it sort of has a superhero thing happening," she added.

Paltrow plays Tony Stark's love interest and assistant-turned-business partner Pepper Potts in the "Iron Man" trilogy. Her co-stars couldn't be happier about People's most beautiful proclamation.

Guy Pearce called the selection "completely justified" because "she's gorgeous," The Associated Press reported.
Ben Kingsley added, "she is as gracious and beautiful inside as she is outside."

But Paltrow's not quite as sold on her most beautiful woman status, saying, "it's obviously not true. But it's very sweet to be named that."
U.S. & World
Stories that affect your life across the U.S. and around the world.