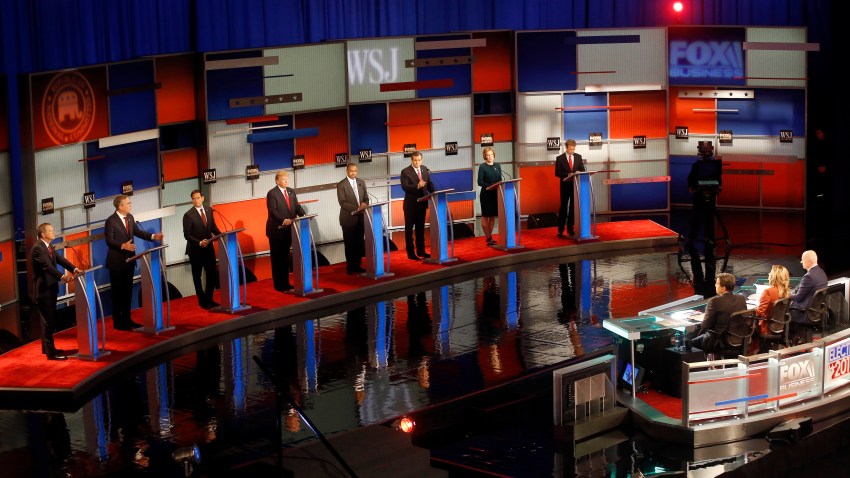 Republican presidential candidates agree that Islamic extremists are running rampant, the Mideast is on fire and Russia, China and Iran are flexing their muscles, yet they are far from reaching consensus on how much is enough when it comes to spending on defense.
It's a political divide that has dogged the GOP since 2010 — defense hawks versus deficit hawks born in the tea party movement. It also reflects a war-weary nation as conflicts in Iraq and Afghanistan drag on with no end in sight and President Barack Obama decides to deploy 50 Special Operations forces to Syria.
The divisions were on stark display during Tuesday's night debate. In a heated exchange, Florida Sen. Marco Rubio called for raising defense spending significantly. Texas Sen. Ted Cruz wants more robust spending, too, but he doesn't want to make the deficit larger. Kentucky Sen. Rand Paul's isolationist bent makes him less willing for the U.S. to get involved abroad and he wondered aloud how spending more money on defense qualifies a candidate as a conservative.
U.S. & World
Stories that affect your life across the U.S. and around the world.
Congress just approved spending $607 billion on defense next year, and the United States is still the world's largest military spender "at nearly three times the level of second-placed China," according to the Stockholm International Peace Research Institute. Russia and Saudi Arabia are third and fourth, respectively.
However, the bipartisan National Defense Panel released a report last year that strongly condemned the current state of the U.S. military. It said U.S. military might has been weakened by deep budget cuts that started with the 2010 budget law. "Budget cuts have left the military in disrepair," the panel's report said. The Budget Control Act has created a "readiness crisis" and has caused shortfalls in present and future capabilities.
That has prompted U.S. allies to question the United States' resolve on the world stage, the report said. If the budget cuts are not stopped, the U.S. military will become a hollow force, the report said. Several candidates have embraced the panel's findings in their campaign rhetoric, but few have provided their desired price tag for the Pentagon budget.
In his June speech announcing his presidential campaign, the former Florida Governor Jeb Bush called the Obama administration "risk averse" and said that Obama was leading America into a state of "military inferiority." He said the nation would continue on that path until a new president stepped into the Oval Office and rebuilt the U.S. armed forces.
"We need to increase defense spending significantly if we are to carry out our global responsibilities today and modernize our armed forces for the future," said Bush.
Retired neurosurgeon Ben Carson told conservative radio talk show host Hugh Hewitt that the U.S. is no longer just cutting fat from the Pentagon budget, but is "cutting into the muscle and cutting into the bone."
Carson said he thinks the United States needs to be able to respond to at least three areas of the world simultaneously and will be in jeopardy if it can't. The defense panel report recommended that the U.S. be able to defeat a large-scale enemy in one theater and simultaneously thwart multiple aggressions in several other regions.
Ted Cruz believes that the defense cuts are harming national security. "You think defending this nation is expensive? Try not defending it. That's a lot more expensive," he said during the debate.
Cruz also argues for fiscal prudence and wants to make sure that any defense increases are offset with budget cuts and don't require tax increases.
Businesswoman Carly Fiorina says defense spending must be treated differently than other government spending.
"It's not the same as, say, the level of soybean subsidies," she told Hewitt. "This is vital to protecting the interests of our nation. And we must have the strongest military on the face of the planet. Everybody has to know it, which means we have to rebuild our army brigades and our Marine battalions and our Navy battleships, and we have to invest in our nuclear triad. All those things have to be done."
South Carolina Senator Lindsey Graham is a defense hawk who has repeatedly clashed with deficit hawks.
"Our ballooning national debt poses a serious threat to our national security, but failed attempts to address it by blindly and recklessly slashing military funding are equally dangerous," Graham says on his campaign website. Budget cuts could be replaced with targeted cuts and reforms that will reduce federal spending, he says.
Rand Paul has proposed a budget in the past that would have cut spending across the board to curb deficits. The Kentucky senator said America can be strong without intervening in every civil conflict around the world.
"We need a safe country, but, you know, we spend more on our military than the next 10 countries combined," he said at the debate. "I want a strong national defense, but I don't want us to be bankrupt."
Ohio Governor John Kasich wants to lift the automatic spending caps on the defense budget and even spend more on the military if needed. But he's a fiscal conservative and he has to balance those two priorities in his campaign.
To that end, Kasich has called for a larger defense budget, yet calls himself a "troublemaker" who's been at the center of battles to balance government budgets for decades.
Florida Senator Marco Rubio has pledged to increase defense spending to around $600 billion — the level that then-Secretary of Defense Robert Gates recommended in a request to the White House in 2011.
"Defense spending has fallen dramatically on President Obama's watch and our forces have been reduced and suffered readiness challenges even as threats abroad increase. Our military therefore needs a serious program of reinvestment and modernization — boosting the size of our forces to do the jobs we ask them to do and modernizing them to meet the threats they will face so that when efforts to deter conflict fail, they are never sent into a fair fight," Rubio says.
Wealthy businessman Donald Trump said other nations are beating the U.S. economically and militarily.
"We have to make our military bigger, better, stronger than ever before so that nobody messes with us, and in the long run, it's going to save us," Trump says.
At the same time, Trump says, "We can't continue to be the policeman of the world. ... We have a country that's going to hell. We have an infrastructure that's falling apart. Our roads. Our bridges. Our schools. Our airports. And we have to start investing money in our country."
Copyright AP - Associated Press