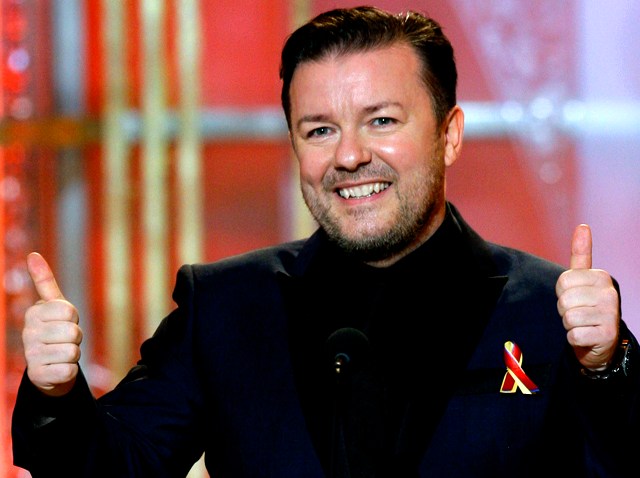 Having seen the abuse Ricky Gervais unleashed on the likes of Sir Paul McCartney, Mel Gibson and Angelina Jolie at last year's Golden Globes, the mind reels at the prospect of the British funnyman MCing the show as a lame duck.
Gervais has vowed that this will be his last time serving as host for the Golden Globes, which is too bad, because last year he managed to turn a normally staid affair into a high wire act. He goofed on McCartney's divorce, Jolie's serial adoptions, Gibson drinking problems... hell, even bought a round of beers for the house.
And in addition to Gervais' shenanigans, there are some trophies to hand out. When the nominations were announced back on Dec. 14, the belles of the ball were "The King's Speech" with seven nominations, including Best Film, and "Glee," which had five nominations, including Best Musical or Comedy. Much has changed for "The King's Speech" since then.

Despite its near-perfect Awards pedigree: The Royal Family, a WW II backdrop, a disability and triumph of the human spirit--too say nothing of Colin Firth, Geoffrey Rush, Helena Bonham Carter—the reign of "The Kings Speech" was short lived.

In no time at all, "The Social Network," David Fincher's's dark recounting of the birth of Facebook, propelled by Aaron Sorkin's patented quick-fire dialog, started winning every award in sight. Thus far it's won Best Picture from the International Press Academy, National Board of Review, as well as the film critics societies of Boston, Detroit, Houston, Las Vegas, LA, New York, San Francisco and DC.

It would appear that the best hope for "The King's Speech" will be Colin Firth in the Best Actor, Drama category. Many felt Firth got robbed last year, when his performance in "A Single Man" was overlooked in favor of Jeff Bridges' work in "Crazy Heart." Lucky for Firth, Bridges poses no threat to him this year. In fact Bridges' and his "True Grit" cohort pose no threat to anyone, as the film was curiously ignored by the HFPA. Weird.

It's easier for TV shows to hold onto their frontrunner status, as there aren't dozens of separate guilds and bodies giving out awards, sending signals about the will of the people to the HFPA voters. And so "Glee" remains the odds-on favorite to be the big winner among TV shows. It returns as the reigning Best Comedy champ, and still has Matthew Morrison, Lea Michelle, Jane Lynch and Chris Colfer in the hunt for each of the acting awards. And with no new strong entries from the world of sitcoms lurking, "Glee"s status remains safe.

Until someone beats "Mad Men," winner of the last three Best Drama Series awards, the hyper-stylized '60s drama has to be considered a best bet, but it does face two high-profile newcomer challengers, HBO's Prohibition gangster epic from executive producer Martin Scorsese, "Boardwalk Empire," and AMC's zombie apocalypse saga, "The Walking Dead." The gut says it could be a coin-toss between "Mad Men" and "Walking Dead," but it may be hard for voters to ignore Scorsese.

Even if you're not into awards shows (if not what are you doing down here?), Sunday night's show should be worth the price of admission if only to see how well—or rather, poorly—Gervais behaves himself when he has no intention of coming back.