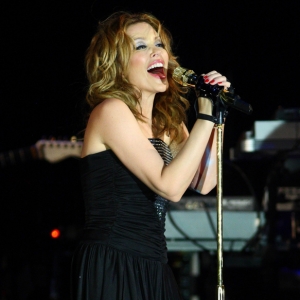 Kylie Minogue's schedule is jam packed as she travels the globe on her worldwide tour. So when she steps off the stage, the last thing she wants to do is spend a lot of time in front of the mirror doing her makeup.
It's easy to get glam fast with one of Kylie's favorite beauty brands, PIXI.
VIEW THE PHOTOS: Hollywood's Hottest Beach Bods
U.S. & World
Stories that affect your life across the U.S. and around the world.
Petra Strand, creator and founder of PIXI (celeb fans also include Jennie Garth and Natasha Bedingfield) shows how to get a "fresh fuss-free look in five minutes." (Try saying THAT 10 times fast!)
PERFECT SKIN
PETRA'S PICK: PIXI Flawless Vitamin Veil
This crème to powder foundation provides perfected skin, but with a hardly noticeable look - it just looks like great skin! Available in three shades, it features skin-treating ingredients like anti-aging vitamins and soothing aloe vera. It's also oil-free with a demi-matte coverage to see you through from light day to evening.
VIEW THE PHOTOS: The Latest Star Sightings
HOW TO: Provides medium to full coverage. Apply with makeup sponge where necessary to even out skin tone.
PETRA'S PICK: Eye Bright Kit
"I love this as our instant flaw fixer – it is so multi-functional, it is your "face in a case." A wheel of 4 shades, there is one cover-up just for darkness under the eyes and two shades of cover-up that are pigment rich for perfect skin that will see you through Summer to Winter.
HOW TO: You can mix the colors to create a customized shade that's the perfect skin tone for you. Use fingers to apply to areas as needed to conceal and correct imperfections. The silky crème highlighting shade that's included can be used to add instant lustre to eyes, cheekbones and even the "cupid's bow" of the lips.
VIEW THE PHOTOS: Stars With Lasting Style
CHEEKS
PETRA'S PICK: PIXI Cheek Gel
A good blush brings your complexion to life as it gives an immediate "lift" to even the most fatigued and sallow skin. The cheek gel is oil free with added aloe vera which can also be used as a stain on the lips.
HOW TO: A rosy tint on the apples of your cheeks always translates youth to me. To get this look, just apply a small amount of PIXI Cheek Gel – it can be a rosy pink or a bronzy pink, use your fingers to blend into the "apples of the cheeks." It really will revitalize your face and takes just seconds to do. Be careful not to add too much, you might look like a clown.
LIPS
PETRA'S PICK: PIXI Lip Booster in Nixie, which is a pretty gold pink.
If you want to add a little more color and a sexy sheen add a touch of Booster for a balmy, slick, moisturizing sexy gloss.
HOW TO: Your lips should always have a natural tint and a hint of gloss. No need to line lips which cuts down on the time to get ready. Moisturized lips look healthy.
EYES
PETRA'S PICK: PIXI Gel Liner
Frame eyes with the liner pushing close to the lash line to make lashes look fuller. Also for a gorgeous retro liner, make lashes long and lush by rolling the wand from the root to tip and then zig-zag through the lashes. PIXI blue black Mascara gives whites of the eye a peppy boost.
PETRA'S PICK: PIXI Eye Beauty Kit, which is a collection of wearable eye shadows. The kits are available in many colors. If you want to step out a bit more for night time, the eye kit in Mod provides the perfect smokey eye - with some great smudgy, smokey shades.
HOW TO:
Layer the mid-browns all over the lid, blending upwards and gently outwards, take the second darkest black and work into the contour of the eye going a little above the actual crease of the eye. Line completely around the eye with the deepest shade using the thin end of the brush (the flat liner), using a thin line around the eye will create intensity, without closing the eye up. Apply a tiny amount of the pearl highlighter just at the highest point under the eyebrow and the very inner corner of the eye.
PIXI is available at www.pixibeauty.com and www.target.com.
Related Content from AccessHollywood.com:
PLAY IT NOW: Ryan Reynolds Talks 'Must Haves' For Entertainment Weekly (June 2009)
PLAY IT NOW: Access Style: Isabel Toledo's Fashion Exhibit Kick-Off

MORE ACCESS ON THESE TOPICS: Glam Slam - Style - Kylie Minogue - Summer Shape-Up

Copyright NBCAH - Access Hollywood