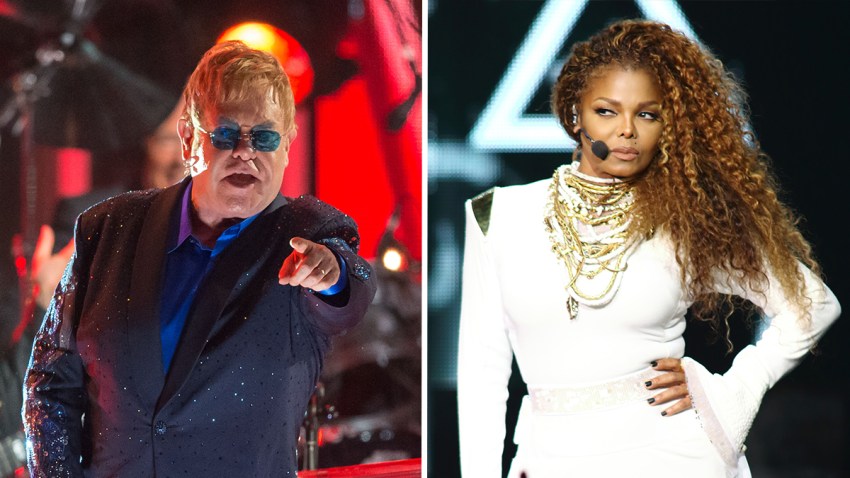 The bitch is back, all right.
Elton John is one of the most outspoken musicians alive, and in a new Rolling Stone interview, he takes aim at one of the most popular female solo artists of all time. Because he prides himself on giving his all onstage, John is sensitive to others he feels do not hold themselves to the same standards.
"You know, f--king music magazines writing a review of Janet Jackson saying, 'This is the greatest show – four and a half stars.' It's f--king lip-synced! Hello! That's not a show!" John, 68, says. "I'd rather go and see a drag queen. F--k off."
U.S. & World
Stories that affect your life across the U.S. and around the world.
Jackson, who is currently on a world tour in support of her eleventh studio album, "Unbreakable," has not yet responded to John's allegations; E! News has reached out to the 49-year-old "No Sleeep" singer's rep for comment.
More than a decade ago, John made similar lip-syncing claims about Madonna. "I say what I feel," he tells Rolling Stone in hindsight. "I probably went too far with Madonna, and I got very personal and I wrote her – she was very gracious."
Who could forget their 11-year feud? John first dissed the Material Girl in 2002 when he said that "Die Another Day" was the "worst" James Bond song he'd ever heard. Two years later, he called her out onstage at the Q Awards. "Madonna, best live act? F--k off," he told the audience. "Since when has lip-syncing been live? Sorry about that, but I think everyone who lip-syncs on stage in public when you pay like 75 quid to see them should be shot. Thank you very much. That's me off her Christmas card list, but do I give a toss? No."
The "Tiny Dancer" singer trashed Madonna again ahead of her Super Bowl Halftime performance in 2012. Asked if he had any advice for Queen of Pop, he replied, "Make sure you lip-sync good." Later that year, during an appearance on Australia's "Sunday Night," John took his insults a step further. "Her tour is a disaster and it couldn't happen to a bigger c--t. If Madonna had any common sense, she would have made a record like "Ray of Light," stayed away from the dance stuff and just been a great pop singer and made great pop records, which she does brilliantly. But no, she had to prove that she was like..." he said, not finishing his sentence. "And she looks like a f--king fairground stripper."
John decided to bury the hatchet with Madonna after they unexpectedly crossed paths in 2012. "We were in a restaurant in France in the summertime. She came in, and I sent over a note. She was very gracious. I apologized profusely because what I said should never have appeared in public. She accepted our apology, and then we bought her dinner. That's over and done with," he told Extra the following year. "She was fantastic. She was just like, 'OK, let's get a move on.'"
Will Jackson be as forgiving?
PHOTOS: Janet Jackson's best looks
Copyright E! Online