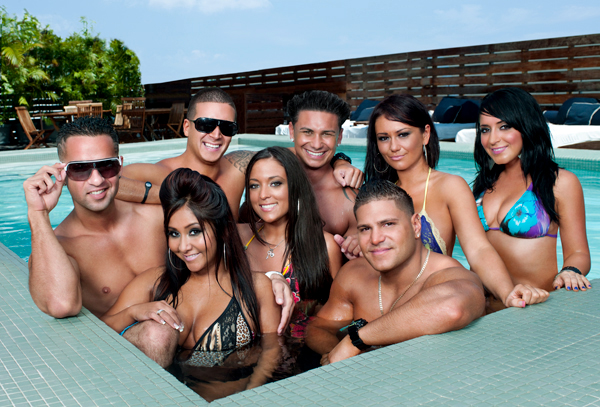 In the last week on "Jersey Shore" intro that tops the show, we learn the main themes are obviously drinking and hot tubs. The fashion trends revolve mostly around "skin," dudes go primarily shirtless, and the girls like this bear-mangled loose-fitting light-colored shirt. It's both reason and proof that most Jersey Shore kids do or should sleep high in the trees at night.

As the show kicks off, we start with Jwoww, fan of too many W's, doing some fact-gathering from the night before. Not sure who she hooked up with, she pressures Paully D for answers, who eventually admits that yea, they hooked up. But that's soooo not good for Jwoww because she has a boyfriend! And, she's only been in the house for a few days so naturally this doesn't look good for that whole "trust" thing that relationships tend to revolve around. More on that later.

Rather nonchalantly Pauly D verifies the fact that yep, "she kissed me with her tongue." He then sorta hilariously sips his coffee and ponders something.

Cut to: t-shirt shop. The housemates place of commerce. There are significantly less uses of the word "guido" in this episode so far but here we have our first hit with the phrase "typical guido."

Back at the house, we get some quality time with Snooki sucking on a pickle while wearing her "Aspiring Porn Star" hat. This is funny, but sad, because she really means it, and the pickle is her way of demonstrating some of her aspiring talents. But that's "her thing," she admits. Not sure what that "thing" is, but it's Snookie and is she human? This girl is strange, orange, unnaturally so.

Back to Jwowwwwww, house resident and non-recollecting cheater, who is having a moment with big muscled Ron, to whom she admits she is close to, but Ronnie boy has genuine feelings for Sam, but is totally pissed off at Mike.

That moment though leads into Jwwowwwwww hyping herself up to face her visiting boyfriend with the news that she cheated on him at a club, with greasy Pauly D. She's ready, she's feeling it, she's got to do this because it's fair and right and here we go, boyfriend is pulling up, about to tell him that she hooked up with...oh! Flowers! That's it, conversation avoided but a cloud has clearly moved in over the Jersey Shore.

By the way, advertisers at this point include T-Mobile, World of Warcraft, and a movie that makes my heart feel empty involving Hugh Grant, Sarah Jessica Parker, and a bear. Your mom will be asking about this one soon so familiarize. Grant. Parker. Bear. Class dismissed.

OK, and yes despite MTV dismissing accusations of racism and depicting Italians as Jersey Shore guidos, there's a wonderfully-painted mural of the state of New Jersey and an Italian flag right on the cast's house. This comes up a lot in external shots which more or less frame the idiocy, so for MTV to somehow deflect this criticism is no longer a valid way to tamper down the angry crowds. They are literally saying look at these idiots in our TV house, and then showing a shot of the state of New Jersey in an Italian flag. Moving on.

Angelina, a cast member known for being kind of drama queen, brings two friends as sacrificial sexual lambs for the bros in the house. The bros, getting ready for a club night, are slathering themselves in body grease and hair gel and ooh -- there's a nice product placement for Body Heat. Well played. Angela's trouble with her boyfriend has entered uncomfortable waters when someone drops the light bombshell that he is going through some inconvenient little divorce or something! Snookie offers some sense, noting it makes no sense. Angelina's a tad bummed, rightfully so.

More advertisers who are cool with all of this include Rhapsody, FloTV (such a weird little personal TV thing), and McDonald's, who are really pushing this free Coke cup thing!

While you ponder if you could really use a new Coca-cola glass up, we're rapidly sent back to the house where Mike, Angelina's married but divorcing boyfriend calls. A couple times. And then he texts. Everyone in the house. A few more times. The bros are way not cool with that, as some kind of societal line has been crossed but I'm not sure which one?

So Jwwwwow, who's now lying in bed with her boyfriend, knowing she's crossed lines of her own, faces her boyfriend's cold, hard statement: "If you do anything with another guy, I'm out." Ugh that's annnnoying to hear to Jwow and her W's, who rolls over and acts kinda ticked off. But she knows deep down that each and every one of her W's is a cheat.

With that, we again see that framing shot of Jersey within the Italian flag.

Jwow admits she didn't realize how much he cared about me until "he came this weekend," but again, we're looking at like maybe five days max that these people have been living in this house.

Now, after Angelina bailed out on work for "feeling sick," (translation: life's tough), Danny, the landlord/boss/local guy who rides a beach cruiser who up to the house to confront her about the tardiness at the t-shirt shop. But, unable to face the her failures, she hides in the bathroom and just turns the sink on to hide behind the regretful noise of falling water. And maybe dreams. So, that's it. She's off the island. He tells her to go home, no tribal council vote or anything!

Jersey Shore suddenly looks a tad like Survivor, but instead of feeding themselves and fighting each other off the island, it's keep your job for one day. One friggin day. But that's tough.

MTV cuts to the Jersey state and Italian flag mural again. And then again, except this time they zoom in as if to say, "Yeaaaa, we did that."

After a few harsh moments of backstabbing now that Angelina is gone and the house's new status as one that is "drama free," Jwoww tells her boyfriend that something happened at the club and *cliiiick* that's it.

More of the same ads go by, which at this point are essentially all for hair gels, cheesy entertainment, and pregnancy tests, which is what Jersey Shore the show would look like if broken up into a theme cloud. And then an anti-sexting PSA! I love these.

Back to Snookie, a walking anti-sexting PSA in her own right, shaking what her momma bought her at a near-empty bar in the middle of the afternoon.

Meanwhile, two housemates go on a normal Jersey date -- go karts and mini golf. They later snuggle in the guest bed, which is also quite normal and very unlike the rest of the show.

But don't worry! They cut back to Snookie in the hot tub making out with a girl from the bar, and then making out with the bro nicknamed "The Situation," who is half-cruel, half-sweet to her but that's what she like in a guy.

Things seem good, everyone is making out with each other both inside and outside the house, and the show is winding down and I'm about to leave my friends house to go home when ... tragedy strikes!

The hot tub water temperature has risen too high for Snookie's orange skin chemicals that she begins to slowly cook. The smell of cooking Snook catches the rest of the housemates who all line up at the hot tub to feast on her boiling flesh. So that's it. The show ends with the entire Jersey Shore cast snacking on a cast member who's cooked in the hot tub because in reality, I couldn't watch the last five minutes so am left to make it up. That's what you get, America, for supporting such advertisers who support such trash in your living rooms every Thursday night.

Godbless, Godspeed, and Jersey Shore 4eva.
Copyright FREEL - NBC Local Media